How an Architect at Alure Home Improvements Can Help with Your Long Island, NY, Home Remodeling Project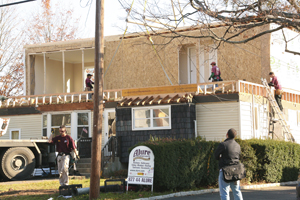 At Alure Home Improvements, we offer Long Island homeowners access to an architect who can help with the design of an upcoming home remodeling project. Since 1946, our team has built a solid reputation in part for our ability to handle jobs of all sizes and types, and we are pleased to have highly educated and experienced architects and draftsmen on staff to assist in the remodeling process. If you are interested in adding on to your home or expanding your existing living space, our architect team can help.
Having access to an in-house architect at Alure Home Improvements is a big deal. Unlike other home remodeling companies that usually have to outsource this work to a third-party, we have architects on staff who are integral members of the remodeling team. Here's how the design and installation process works with an Alure architect:
A home addition or extension designer visits your home to discuss your specific needs and wants.
After this initial inspection is completed and an initial plan is agreed upon, an architect digs into the specifics of the project to verify measurements, consider existing mechanical systems, and inspect the structure of the home.
With this information, the architect then develops a comprehensive, sound plan for the remodeling project, be it a kitchen or bathroom addition, second floor addition, new room, or anything else you want.
The plan that the architect drafts is used by our design team to create a digital image that reflects what the finished project will look like. This is an excellent visualization tool that can help you feel comfortable with the plan and make any necessary adjustments before the job begins.
Finally, the architect will finish the design plan and once everything is in place and the necessary permits are received, the project begins.
By working with a staff architect, you can enjoy the peace of mind that comes from working with a professional who has the education and experience needed to plan your remodel. Rather than trusting your average home remodeler, contact Alure Home Improvements and learn what sets us apart from the competition.
Alure Online
Specials
View A Complete List Of Our Specials
Some restrictions apply, click the button below for more details.