Seasonal and Year Round Sunrooms from Joyce Manufacturing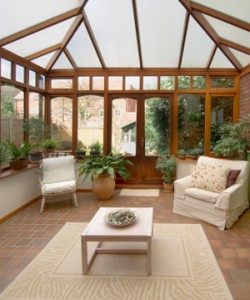 When you turn to Alure Home Improvements for sunrooms, you'll have the opportunity to choose from several different options built by Joyce Manufacturing. Each of the Oasis® Leisure Room® sunrooms we offer have their own distinct advantages, however, so you'll have the opportunity to select the specific sunroom that will work best for your home and fit comfortably in your budget. To help make sense of all of your options, our extremely knowledgeable and experienced sales staff is standing by and will gladly explain the various benefits to both the seasonal and year round sunrooms we feature.
One thing that we've learned over the years is that different homeowners have different expectations for their sunrooms. Some people simply want a comfortable place to entertain guests and eat dinner in the warmer months when the weather is gorgeous, while others are looking for their sunrooms to serve as a natural extension of their home and expect to be able to enjoy it all year long, even in the frigid winter months. To help ensure that we're able to accommodate the unique needs of each homeowner that comes to us, we have partnered with Joyce Manufacturing who offer sunrooms that are perfect for both preferences.
For example, the Oasis® Leisure Room 3000® vinyl patio enclosure comes standard with â…ž-inch Low-E tempered glass, which are extremely high performing and energy efficient, making it easier to keep your sunroom at a constant, regulated temperature even when the weather outside isn't ideal. The Oasis® Leisure Room 2000®, on the other hand, is designed to provide comfortable seasonal enjoyment thanks to its quality vinyl design and tempered glass.
To learn about the unique features of each sunroom we offer and to learn how one of these sunrooms can work for your home, contact Alure Home Improvements or stop by our three-story showroom in East Meadow, New York. One of our representatives will be glad to answer all of your questions and provide you with a quote for your new sunroom.