What Does it Mean to Have ENERGY STAR-rated Windows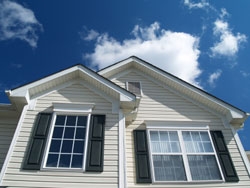 If you stop by our three-story showroom in East Meadow, New York, to look at replacement windows, one of our expert home remodelers at Alure Home Improvements will undoubtedly explain that our Quantum2 replacement windows are ENERGY STAR-rated, but what exactly does this mean? How do windows obtain the designation and what benefits to these types of windows offer that other windows do not?
The ENERGY STAR program was established by the Environmental Protection Agency (EPA) as a means for designating home remodeling products and services that adhere to strict national standards for energy efficiency. In order for windows to earn an ENERGY STAR rating, performance levels must be met, and the windows will typically come with several common product features that are designed to reduce the instance of heat being able to enter or escape the home. By limiting heat transfer, it can be easier and, thus, more affordable to keep the temperature of the home regulated.
Our Quantum2 Solace vinyl windows boast:
Quality vinyl frames that are welded at all corners, making them air and water tight
Argon or krypton gas fills between each window pane
Low-E coating that reflect heat
A warm edge spacer that reduces condensation and improves thermal efficiency
These days, nearly every homeowner is looking for practical ways to save money around the house, and by investing in ENERGY STAR-rated windows and other home remodeling products, you may be able to see significant savings in monthly heating and cooling costs. To learn more about the various advantages to investing in ENERGY STAR products for your home, contact Alure Home Improvements and schedule a consultation with one of our experienced home remodelers. We'll be happy to walk you through your various options and help you select replacement windows that will meet your practical and aesthetic needs.