Replacement Windows – Safety Features
The Hidden Safety Features of Replacement Windows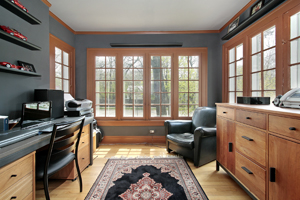 These days, an awful lot of attention gets put on the energy efficiency of replacement windows. Window technology is rapidly expanding and all across the country Americans are flocking to thermally resistant windows to help cut down on their monthly energy costs,and with good reason. Yet, there are all sorts of other benefits and features included in new windows that should also be considered before investing in any one kind of window for your home.  And without a doubt, one of the most important components that you should prioritize when you're considering your window options is its included safety features. As the old saying goes, your security system is only as strong as the weakest link, and it is exceedingly important that you select windows that are durable enough to help repel attempts at forced entry.
Here are just a couple of examples of the integrated safety features that are now often included in replacement windows:
Pick-resistant recessed locks, These locks are designed in such a way that you don't have to worry about tampering; all windows more than 30″ wide also come with two window locks for further peace of mind.
Night latches, Sliding glass windows can be outfitted with night latches that allow you to keep your windows open a few inches for ventilation without worrying about sacrificing the security of the window system. Sash stops can also keep your windows from toppling inward.
Safety screens, These screens are a great option because they resist damage from dogs and cats and are perfect for homes where children may be inclined to push on the screen, offering one more level of protection.
Reinforced frames, High quality frame construction not only helps inhibit heat transfer into and out of the home but also fusion welded main frames and sashes offer much-needed additional strength and security.
The point is that when it comes to replacement windows, there is more than meets the eye. Take your time to explore all of your options and pay close attention to the integrated safety features in your windows to ensure that you and your family are protected. To learn more about Alure Home Improvements Ultrashield windows, contact a representative today.