The Advantages to Installing Double Hung Windows in Your Nassau County, NY, Home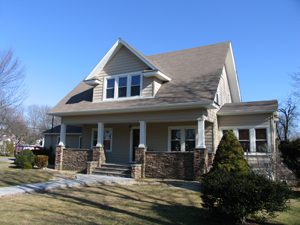 At Alure Home Improvements, our team of home remodelers gladly installs double hung windows on houses throughout Nassau County, New York. These fantastic replacement windows are designed to not only look great but also be highly energy efficient as well. Whether you just moved into a new home and you're eager to replace the old windows or you're exploring practical ways to upgrade the look and feel of your house, we're here to help. Double hung windows are extremely popular in part because of their traditional look. Yet, unlike standard windows, double hung windows allow both the upper and lower sash to be opened, providing optimal ventilation in the home.
When you turn to Alure Home improvements for your home window needs in Nassau County, you'll have the opportunity to purchase our MaxSeries windows. These double hung windows are:
ENERGY STAR® rated and designed to help prevent heat transfer into and out of the home. This can help lower heating and cooling costs throughout the year and make your home more comfortable.
Manufactured using the highest craftsmanship and fiberglass construction ensuring your windows will continue to look great and operate reliably for the years to come.
Extremely attractive and available in many combinations of interior and exterior color, ensuring your windows will look great on your unique home. Our windows can further be customized in terms of hardware, grille pattern, and more to suit your specific needs.
Backed by a fantastic warranty that provides peace of mind that your windows are protected from the unexpected.
To learn all about the many benefits to the double hung windows we install in Nassau County, NY, contact us today. We also offer a variety of other window styles to consider.