Different Wood Options for Kitchen Cabinets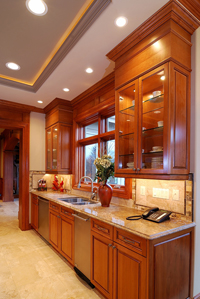 One of the most important decisions you can make when you are remodeling your kitchen is deciding on the right type of cabinets for your home. As a Certified Kitchen Designer at Alure Home Improvements can explain, there are all sorts of wood options to choose from, each with their own distinct look and benefit. By taking the time to explore your options with one of our knowledgeable representatives, you'll be able to find the ideal style of cabinet for your kitchen, one that meets your aesthetic preference, complements the kitchen, and fits your budget.
Make no mistake about it, selecting the right kind of wood for your cabinets is an extremely important choice, since the cabinetry is often one of the first things that visitors to your home notice.
Here are some of the most popular types of wood that homeowners use in their kitchen:
Maple, A classic choice, maple is popular because it is highly durable but maintains a light appearance.
Birch, A light colored wood, birch is a smooth hardwood that is extremely versatile.
Oak, An extremely hard, heavy wood, oak gives off a very distinct, timeless look that stains extremely well.
Cherry, A gorgeous option that ages extremely well and is luxurious.
Bamboo, A green product that is extremely attractive and grows quickly so harvesting this wood doesn't have an adverse effect on forests.
Adler, An increasingly popular type of wood that looks similar to cherry but is much less expensive.
Additionally, you'll want to give ample consideration to the color and grain of the cabinets that you'll prefer in your kitchen. Choosing the right stain or texture can make a huge difference in the room.
Beyond the species of wood that you choose, you'll also want to take time to make sure that you are pleased with the style and design of your cabinetry. At Alure, we understand that the kitchen remodeling process can be a little overwhelming if you go it alone, which is why we're happy to employ a team of highly knowledgeable experts who will gladly walk you through your options, help you design your dream kitchen, and ensure that you are thrilled with the plan long before construction begins.
To learn more about the entire kitchen remodeling process, contact us today or stop by our three-story showroom in East Meadow, New York.
FREE Stainless Steel Bosche Dishwasher ($750 Value) With Complete Kitchen Remodel
For a limited time only, get a FREE Bosche Dishwasher (Model #SHE3ARL5UC) with your Complete Kitchen Remodel PLUS NO money down, NO payments, NO interest for 18 Months* - Act now! *SUBJECT TO CREDIT APPROVAL. Offers are for the stated time period only and may not be combined with any other offers, promotions or discounts. Some restrictions apply. Offer not applicable in all counties due to Consumer Affairs Restrictions. Offer not applicable in or to residents of New York City.