Kitchen Remodeling – Lighting
Taking Full Advantage of Lighting in Your New Kitchen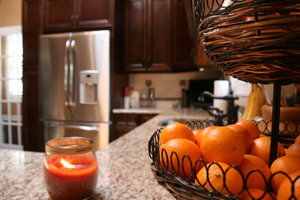 A good kitchen remodeler does more than just hang some cabinets or install a new countertop. Reputable professionals know what it takes to handle the less obvious, but still important, aspects of a remodel that can be the difference between an absolutely gorgeous kitchen and one that doesn't quite leave you satisfied. Fortunately, with a little attention to detail, there are all sorts of ways that you can light your kitchen for both practical and aesthetic purposes.
Here are just a few helpful tips to keep in mind when you're considering the lighting in your kitchen:
Avoid attempting to light your kitchen with a single fixture, This can cause unattractive glares, can overpower the kitchen, and isn't particularly warm and inviting.
Take advantage of natural lighting, Installing a well-placed skylight or large energy efficient windows is a great way to let natural light in without worrying about heat from UV rays driving up your energy costs.
Pay attention to important lighting locations, Installing task lighting over a food prep station or underneath an overhead cabinet is a great way to illuminate practical areas where you'll probably be doing most of your work.
Don't neglect accent lighting, Adding lighting above and below cabinets, for example, is a popular choice because it can make your kitchen look roomier and more inviting. This lighting also gets rid of shadows, which can make a kitchen look gloomier or even less clean.
Have fun with decorative options, Hanging eye-catching fixtures over an island in your kitchen, for example, can really help bring your kitchen together and set it apart from your neighbor's home.
As you can tell, a lot goes into lighting your kitchen, so it pays to work with kitchen remodeling professionals who understand the nuances of the design and have the experience and ability to handle all of your electrical work. By going the extra mile and paying attention to your lighting, you're kitchen can become even more gorgeous and practical.
To learn more about kitchen lighting, contact us at Alure Home Improvements today.
FREE Stainless Steel Bosche Dishwasher ($750 Value) With Complete Kitchen Remodel
For a limited time only, get a FREE Bosche Dishwasher (Model #SHE3ARL5UC) with your Complete Kitchen Remodel PLUS NO money down, NO payments, NO interest for 18 Months* - Act now! *SUBJECT TO CREDIT APPROVAL. Offers are for the stated time period only and may not be combined with any other offers, promotions or discounts. Some restrictions apply. Offer not applicable in all counties due to Consumer Affairs Restrictions. Offer not applicable in or to residents of New York City.