Remodel the Kitchen in Your Howard Beach, NY, Home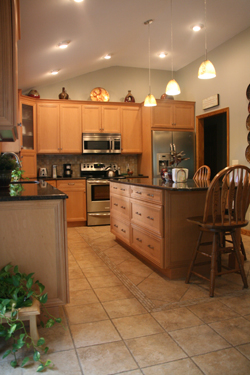 If you have always wanted to remodel the kitchen of your Howard Beach, New York, home, but have never really known where to start, let the professionals at Alure Home Improvements help. As a full-service home remodeling company with decades of experience exceeding the expectations of homeowners throughout the area, we have what it takes to help you create the kitchen of your dreams.
One of the best parts about working with Alure Home Improvements when you remodel your kitchen is all of the resources that we can make available to you. Whether you need help designing the layout of the kitchen, you're interested in exploring the latest in modern design trends, or you are simply looking to replace the countertops and cabinetry, we will work closely with you to make the entire process as easy as possible.
Here are a few examples of the professionals that you'll have the opportunity to work with when you turn to Alure Home Improvements for your kitchen remodel:
Certified Kitchen Designers, These kitchen remodeling professionals have met national standards for aptitude and experience in the kitchen remodel industry, and are trained to work with you to create the custom kitchen space you desire.
Space planners, Our professional design team can help you improve the traffic flow of your kitchen, layout the room in a sensible, intuitive way, and recommend other structural changes that can make a big difference in the kitchen.
Interior designers, We understand that you want to make sure your new kitchen looks great, and our interior decorators will gladly walk you through all of our materials, colors, patterns, and styles, to help you create the ideal kitchen for your home.
The best way to learn more about our kitchen remodel service that we offer in Howard Beach, NY, is to stop by our three-story showroom in East Meadow and speak with our team. You're also welcome to contact us and schedule a consultation at your convenience.
Extra 5% Savings + 25% off Install!
For a limited time only, save and extra 5% on your project PLUS 25% off Install AND NO money down, NO payments, NO interest for 18 Months* - Act now! *SUBJECT TO CREDIT APPROVAL. Offers are for the stated time period only and may not be combined with any other offers, promotions or discounts. Some restrictions apply. Offer not applicable in all counties due to Consumer Affairs Restrictions. Offer not applicable in or to residents of New York City.