Our Comprehensive Kitchen Remodel Service Can Spice Up Your Garden City, NY, Home
If there's anything less exciting than eating a bland meal, it's cooking in an uninspiring kitchen. Whether your kitchen is visually outdated, falling apart, or otherwise making you say "blah," it's time to consider a kitchen remodel. And there's no better choice among kitchen remodelers serving Garden City, New York, homeowners than Alure Home Improvements. We've proudly served residents with best-in-class products and unmatched installation skill for over 75 years and counting—and we'd be happy to bring your kitchen remodel ideas to life next!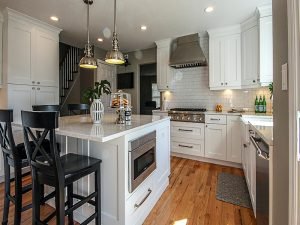 Kitchen Remodeling Services Offered
Alure is a full-service kitchen remodel company that you can count on to handle all kinds of projects, big or small, from the floor to the ceiling. You can come to us for the following upgrades and additions:
Backsplashes
Cabinets, countertops, and islands
Electrical work
Flooring
Layout changes (our design team is ADA-certified, so we can make it easier for residents with limited mobility to get around their kitchens)
Lighting
Plumbing and sinks
In addition to custom kitchen remodel services, we also offer a 10-day program for faster, direct replacement projects. With Alure on your side, your possibilities are endless!
Garden City's Premier Kitchen Remodel Contractor
Why do so many local homeowners go with Alure for their kitchen remodels? We pride ourselves on our robust customer service experience:
We give you the best recommendations and suggestions based on a thorough inspection and assessment of your kitchen.
We help you find cost-effective solutions to get you the best deal, and we'll give you a pricing estimate that's accurate down to the penny.
We cover our work with generous warranties to give you peace of mind about your investment.
We treat your home with the utmost respect and keep our workspace as clean and tidy as possible.
Contact Alure today to set up your no-obligation design consultation and begin your kitchen remodel journey. We proudly serve residents of Garden City, NY, and nearby neighborhoods.
Alure Online
Specials
View A Complete List Of Our Specials
Some restrictions apply, click the button below for more details.