Find the Perfect Kitchen Design for Your Home in Westchester County, NY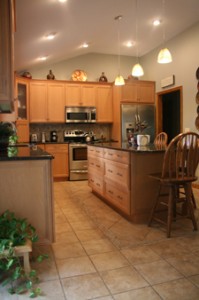 Do you need a little help coming up with the ideal kitchen design in your home in Westchester County, New York? Are you certain that you need to make a change, but you're just not quite sure where to start? Or, do you have a pretty good idea of what you're looking for, and need talented and experienced professionals to turn your dreams into a reality? If so, look no further than the kitchen design team at Alure Home Improvements. Our dedicated remodelers are eager to work with you to design a kitchen that will look great and have the practical features you have always wanted.
So what goes into the perfect kitchen design? As our remodelers will explain, there really is no wrong answer here. Above all else, you want to be thrilled with your newly finished room. After all, if you're like most homeowners, the kitchen is probably one of the most important, lived-in rooms in the home. With that said, there are many things to consider that can help you get the most out of your kitchen during the remodeling process. For instance, here are a few things that we can help you with:
The floor plan of your kitchen: The basic layout of the kitchen can make a huge difference in the room. Taking time to work with a space planner can help improve the flow of the room and ensure the kitchen fits well in the context of the floor plan of the rest of the home.
The layout of the kitchen: Did you know that there are ways to optimize the layout of the kitchen that can help make food preparation, cleaning, and entertaining guests easier? Our talented remodelers can work with you to improve the actual layout and positioning of everything in the kitchen to improve the overall kitchen design.
The appearance of the kitchen: Many homeowners come to us looking to give their kitchen a facelift. This is particularly popular in older homes where the kitchen looks old and tired or when someone moves into a new home and the old kitchen just doesn't look quite the way they would like it do. With many different styles, materials, and products to consider, we can help ensure your kitchen best exudes your unique sense of style.
At Alure Home Improvements, you can trust that we can help you design the ideal kitchen for your home in Westchester County, NY. To learn more, contact us today.
Alure Online
Specials
View A Complete List Of Our Specials
Some restrictions apply, click the button below for more details.