Kitchen Design – Huntington
Design the Kitchen of Your Dreams in Huntington, NY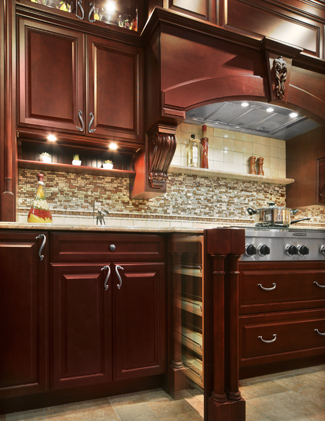 At Alure Home Improvements, our kitchen design team is available to help Huntington, New York, homeowners create the kitchens of their dreams. As a full-service home remodeler, no task is too big or too small for our professionals, and we pride ourselves on our ability to exceed the expectations of just about everyone who turns to us. If you are interested in redesigning and rejuvenating the kitchen in your home, put your trust in our kitchen design professionals.
One of the first steps in any kitchen remodel is coming up with a kitchen design plan. When you turn to Alure Home Improvements, this design phase can be a lot of fun and is extremely rewarding. That's because our team of certified kitchen designers, space planners, interior decorators, green living experts, and other professionals are all at your disposal to help you create the ideal living space for your home. We will gladly work closely with you to fully understand how you currently use your kitchen, what you'd like out of your new kitchen space, and what your unique style is in order to design the perfect kitchen.
Depending on your specific design plan, our team can:
Tear down walls and alter the layout of the room
Install windows and skylights
Move fixtures and appliances
Upgrade the countertops, flooring, and cabinetry
Handle any necessary electrical or plumbing work
Add a kitchen island, breakfast nook, or other dining area
Optimize the layout of the kitchen for food preparation
Improve the lighting in the room
And so much more
Plus, at Alure Home Improvements, our kitchen remodelers specialize in a unique 10-Day EXTREME kitchen remodeling service for homeowners who like the basic layout of their kitchens and don't need any walls or fixtures moved.
To learn more about how we can help you design the kitchen of your dreams in Huntington, NY, contact us today.
Alure Online
Specials
View A Complete List Of Our Specials
Some restrictions apply, click the button below for more details.