Upgrading the Kitchen Décor in Your Home in Nassau County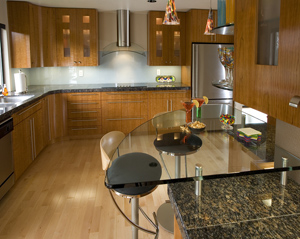 One great way to rejuvenate the kitchen décor in your home in Nassau County is with the kitchen remodeling services offered at Alure Home Improvements. As any homeowner knows, design trends have a tendency to change, sometimes drastically, over the years. Before you know, it can become dated and is not the style you prefer. To help you address this issue and design a modern, practical kitchen that will complement the rest of your home, let our team of highly professional kitchen remodelers assist you.
Since 1946, Alure Home Improvements has been proud to meet the home remodeling needs of local homeowners. We've seen how the kitchen décor in homes has evolved and have worked extremely hard to stay knowledgeable on the latest trends in the industry. After all, your kitchen is undoubtedly one of the most lived-in areas in your home. It makes sense that you want this living area to be a space that you can be proud of and want to spend time in throughout the year.
As a full-service home remodeling company, we have the manpower, diverse inventory, and experience needed to handle kitchen remodeling jobs of any size and scope. When you turn to us to help you upgrade your kitchen décor, one of our professionals will work with you every step of the way, from the initial design consultation where we can present various custom kitchen layouts through the completion of your remodel, to ensure that you are completely comfortable with and informed about the process. This commitment to customer service is our top priority and we won't be happy until you are thrilled with your new kitchen.
In addition to our full kitchen remodeling service, we also offer our 10-Day EXTREME Kitchen Remodeling service that is perfect if you are satisfied with the layout and fixtures of your kitchen, but wish to make an aesthetic change to the kitchen décor. To learn more about remodeling the kitchen in your Nassau County home, contact us today or stop by our showroom in East Meadow, New York.
Extra 5% Savings + 25% off Install!
For a limited time only, save and extra 5% on your project PLUS 25% off Install AND NO money down, NO payments, NO interest for 18 Months* - Act now! *SUBJECT TO CREDIT APPROVAL. Offers are for the stated time period only and may not be combined with any other offers, promotions or discounts. Some restrictions apply. Offer not applicable in all counties due to Consumer Affairs Restrictions. Offer not applicable in or to residents of New York City.