Design the Kitchen of Your Dreams for Your Bergen County, NJ, Home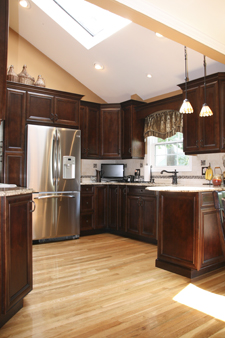 At Alure Home Improvements, we want to help you design the kitchen of your dreams for your Bergen County, New Jersey, home. Our team of highly trained kitchen remodelers knows what it takes to design a kitchen that will look great, have the features you require, and complement the layout of the rest of your home. Whether you just moved into your house and the kitchen needs a little work, or you're finally ready to invest in the kitchen you've always wanted, our team is here to help.
As a full-service home remodeler serving homeowners throughout the community for many decades, Alure Home Improvements has what it takes to handle your kitchen design needs, no matter the size or scope of the project. In all, our team can:
Install new cabinets
Upgrade the countertops
Replace the flooring
Improve the lighting
Optimize  the flow of the room
Move fixtures
Knock down walls
Expand the room
Add more counter space
And make other upgrades
We offer a unique 10 Day EXTREME kitchen remodeling service. This service is ideal for homeowners who don't need any walls or fixtures moved, but are eager to gut and remodel their kitchens. And since we can complete an entire project in only two weeks, your remodel will have as little interruption in your daily routine as possible. If you are in need a more customized approach, we can also help you with that!
To help you through the process, you can rest assured you'll work with highly experienced professionals who can design a kitchen that fully meets your needs. Our Certified Kitchen Designers can walk you through your many options and ensure you'll be thrilled with the finished product. We also have extensive experience designing all sorts of different styles of kitchens ranging from modern and chic to more traditional options. For more information about how we can help you design the perfect kitchen for your Bergen County, NJ, home, contact us today and schedule a free consultation.
$750 OFF*
Complete Kitchen Remodel
Not to be combined with any other sales, discounts or promotions. Minimum purchase $14,999.