What is the Benefit to Vinyl Siding for Suffolk County Homes?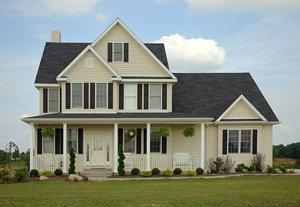 At Alure Home Improvements, one common question that we hear from Suffolk County homeowners is, "what is vinyl siding?" While this type of exterior cladding is quite popular, many people don't fully understand the numerous benefits and features that this unique siding offers. Fortunately, our team of home remodelers is extremely well versed in our full inventory of siding products and will gladly walk you through your options in order to find the perfect siding for your home.
Practically speaking, vinyl home remodeling products are preferable to many other building materials because of their resiliency. Vinyl siding, for instance, is extremely low maintenance and in most cases requires little more than soap and water to keep clean. Furthermore, vinyl will never rot, warp, or fade, and isn't nearly as susceptible to insect infestation and mold growth as wood and other siding products.
One of the appealing qualities of vinyl siding is that it is available in a wide variety of colors and styles, which makes it a perfect solution for just about any home. Our team of siding specialists works extremely hard to stay up to date on the latest installation techniques and industry trends to help ensure that your new siding will be installed as quickly and efficiently as possible.
Plus, many homeowners are drawn to vinyl siding for environmental reasons. For instance, vinyl siding scores well on environmental measures throughout the manufacturing, transportation, installation, and service of the product. What's more, insulated vinyl siding can cut down on carbon emissions, limit heat transfer into and out of the home, and may even help lead to cost savings on monthly heating and cooling bills.
To learn more about the benefits to vinyl siding, contact Alure Home Improvements today. Using our state-of-the-art design imaging software, we'll even be able to show you what various styles of vinyl siding will look like on your Suffolk County home long before the installation is scheduled.
Extra 5% Savings + 50% off Install!
For a limited time only, save and extra 5% on your project PLUS 50% off Install AND NO money down, NO payments, NO interest for 18 Months* - Act now! *SUBJECT TO CREDIT APPROVAL. Offers are for the stated time period only and may not be combined with any other offers, promotions or discounts. Some restrictions apply. Offer not applicable in all counties due to Consumer Affairs Restrictions. Offer not applicable in or to residents of New York City. Call for details on scheduling the imaging session.