The Unique Benefits to Installing Vinyl Siding on Your Home in Lindenhurst, East Northport, Ridge & Throughout Suffolk County, New York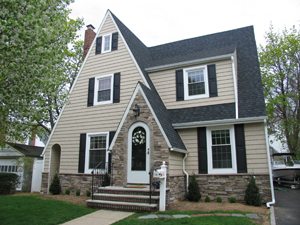 Installing vinyl siding on your home in Suffolk County is an excellent way to upgrade the curbside appeal of your home, reduce residential energy waste, and cut down on some of the upkeep that is needed to keep your house looking great. At Alure Home Improvements, our team of highly trained remodeling professionals knows what it takes to install vinyl siding to ensure that it fully meets your needs and leaves you completely satisfied with our craftsmanship. If you're interested in making a sensible investment into your home that combines performance with beauty and value, look no further than this gorgeous, energy-efficient siding product.
We understand that your first priority is to ensure that your new siding product complements the architectural design and style of your home. To help ensure that we have the ideal product for your specific home, we offer vinyl siding in a broad palette of:
Colors
Profiles
Architectural trim
To further help you sort through your options, we provide access to our design imaging center. Using state-of-the-art software, one of our design imaging specialists can digitally alter a photograph of your home to reflect what it will look like with your new vinyl siding in place. This helps provide peace of mind that you've made a great choice.
Regardless of the color and style of vinyl siding you choose, you can rest assured that you are selecting siding that will greatly benefit your home. For instance, one of the biggest advantages to vinyl is that it doesn't absorb water, which means you never have to worry about it rotting, warping, fading, or chipping. This helps ensure that your siding will look great through the years with as minimal maintenance as possible. What's more, vinyl siding is extremely energy efficient and can help prevent heat transfer from driving up your monthly heating and cooling bills.
As you can tell, there are all sorts of benefits to installing vinyl siding on your home in Lindenhurst, Ridge, East Northport, or anywhere else in Suffolk County, NY. To learn more, contact us today and schedule a consultation with one of our experienced remodelers.
Extra 5% Savings + 50% off Install!
For a limited time only, save and extra 5% on your project PLUS 50% off Install AND NO money down, NO payments, NO interest for 18 Months* - Act now! *SUBJECT TO CREDIT APPROVAL. Offers are for the stated time period only and may not be combined with any other offers, promotions or discounts. Some restrictions apply. Offer not applicable in all counties due to Consumer Affairs Restrictions. Offer not applicable in or to residents of New York City. Call for details on scheduling the imaging session.