Gorgeous Vinyl Siding Installed on Homes in Lindenhurst, East Northport, Smithtown, Ridge or Anywhere Else in Suffolk County, NY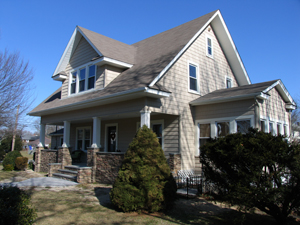 Vinyl siding is a popular option on homes in Suffolk County, New York, because this cladding material is beautiful, durable, and extremely low-maintenance. Over the years, traditional building materials like wood have a tendency to deteriorate. This is particularly prevalent in New York, where the variety of weather patterns and temperature shifts that we experience tend to take their toll on home siding. To prevent deep freezes, frequent precipitation, and high winds from damaging the siding on your home, you should consider the benefits of installing vinyl siding from Alure Home Improvements.
One of the reasons that vinyl is so durable is that it does not absorb water. As a result, vinyl siding does not expand and contract throughout the year, which helps prevent the siding from cracking, swelling, and otherwise showing its age. What's more, our vinyl siding is available in all sorts of gorgeous colors, which helps ensure that we can deliver options that are perfect for homes of all sizes, shapes, ages, and styles. Our professional team is also adept at installing the soffit and fascia that you require on your home. In addition to installing vinyl siding, we offer a number of other exterior home remodeling products to consider, including:
Cultured stone siding
Roofing
Gutters
Replacement windows
Sunrooms
And much more
If you are interested in learning about the numerous advantages of the gorgeous, low-maintenance vinyl siding that we offer in Suffolk County, NY, contact us today. We'll gladly walk you through your options and help you find the siding that will best upgrade your home's curbside appeal. We can also explain our installation process, provide you with a quote for our services, and answer any questions you may have. We serve homeowners in East Northport, Smithtown, Ridge, Lindenhurst, and all throughout Long Island.
Extra 5% Savings + 50% off Install!
For a limited time only, save and extra 5% on your project PLUS 50% off Install AND NO money down, NO payments, NO interest for 18 Months* - Act now! *SUBJECT TO CREDIT APPROVAL. Offers are for the stated time period only and may not be combined with any other offers, promotions or discounts. Some restrictions apply. Offer not applicable in all counties due to Consumer Affairs Restrictions. Offer not applicable in or to residents of New York City. Call for details on scheduling the imaging session.