Vinyl Siding for Homes in the Little Neck, Flushing, Laurelton & Throughout the Queens Community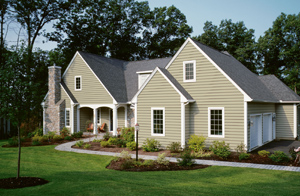 Adding vinyl siding to your home in Queens County is an extremely practical way to increase the curbside appeal of your home while also cutting down on monthly maintenance and improving the energy efficiency. At Alure Home Improvements, we offer a wide variety of siding options to local homeowners, so no matter your unique aesthetic preferences, you're sure to find the right siding in our collection.
One of the biggest benefits of vinyl is that it is extremely resilient. Unlike many other building materials that are susceptible to wear and tear, vinyl will never fade, rot, warp, or crack, which means that your siding will continue to look as good as new for many years to come. In most cases, maintaining vinyl siding can be done with little more than soap and water. In addition to being durable, vinyl siding can help limit the transfer of heat into and out of the home, which can make it easier, and more affordable, to keep the temperature of the home regulated year round. Installing vinyl siding is also a practical way to dramatically upgrade the curbside appeal of your home and may even increase the property value of your house.
In addition to our selection of siding options, the team at Alure Home Improvements is pleased to offer several other home remodeling products in the area, including:
Replacement windows
Roofing
Gutters
Attic insulation
Walk in tubs
Basement Finishing
And more
If you're interested in learning more about installing gorgeous vinyl siding on your Queens area home, contact us today or stop by our showroom in East Meadow, New York. One of our designers can even use our state-of-the-art software imaging software to help you find the siding that will look best on your home.
Extra 5% Savings + 50% off Install!
For a limited time only, save and extra 5% on your project PLUS 50% off Install AND NO money down, NO payments, NO interest for 18 Months* - Act now! *SUBJECT TO CREDIT APPROVAL. Offers are for the stated time period only and may not be combined with any other offers, promotions or discounts. Some restrictions apply. Offer not applicable in all counties due to Consumer Affairs Restrictions. Offer not applicable in or to residents of New York City. Call for details on scheduling the imaging session.