Invest in Vinyl Siding for Your Home in Merrick, Syosset, Baldwin, Massapequa & Across Nassau County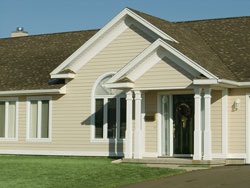 Increasingly, homeowners in Nassau County are installing vinyl siding on their homes. This advanced type of exterior cladding is in many ways preferable to traditional wood and other building materials, in part, because of its resiliency. At Alure Home Improvements, our team is proud to install vinyl siding on homes in Merrick, Syosset, Baldwin, and all across Nassau County, and we will work closely with you to select the ideal siding for your unique house. Whether you're interested in upgrading the curbside appeal of your property, improving the energy efficiency of your home, or cutting down on outside maintenance, vinyl siding is a great choice.
As any New Yorker knows, our state experiences a wide variety of weather patterns throughout the year. Between the cold winters, hot summers, snowfall, heavy rain, and high winds, we see it all. The problem is that this unpredictable weather can really take its toll on the home, leaving your siding looking worn and battered before you know it. One of the advantages to vinyl siding, however, is that it is designed to withstand weathering better than just about any other product on the market. For instance, since vinyl does not absorb water, it will never swell, which helps prevent warping, rotting, cracking, and other eyesores from developing. Furthermore, our vinyl:
Never needs to be painted or stained
Can usually be kept clean with little more than soap and water
Helps reduce outside noise in the home
Is energy efficient and helps cut down on heat gain and loss
Is not susceptible to pest infestation or wood boring insects
In addition to being highly practical, the vinyl siding selection that we offer at Alure Home Improvements is also extremely attractive and customizable. We offer a tremendous number of color styles and finishing touches to ensure that your new siding complements the exterior of your home beautifully.
To learn more about outfitting your Nassau County home with our vinyl siding, contact us today. We gladly serve homeowners in Merrick, Syosset, Baldwin, and other area locations.
Extra 5% Savings + 50% off Install!
For a limited time only, save and extra 5% on your project PLUS 50% off Install AND NO money down, NO payments, NO interest for 18 Months* - Act now! *SUBJECT TO CREDIT APPROVAL. Offers are for the stated time period only and may not be combined with any other offers, promotions or discounts. Some restrictions apply. Offer not applicable in all counties due to Consumer Affairs Restrictions. Offer not applicable in or to residents of New York City. Call for details on scheduling the imaging session.