Tips for Keeping Your Vinyl Siding Looking Good as New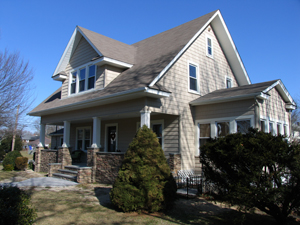 One of the biggest advantages to installing vinyl siding on your home is that this type of exterior cladding is extremely durable. Whereas traditional wood siding has the propensity to absorb water and deteriorate over time, vinyl stands up to wear and tear and will never rot, crack, warp, or succumb to insect infestation. Yes, vinyl siding is one of the most low-maintenance home remodeling products you can ever install on your home. So what do you need to do to make sure that the siding stays looking good as new?
The short answer is, virtually no upkeep is required with vinyl siding. You'll never have to worry about spending countless hours (and money) repainting, staining or waterproofing your siding at the start of every spring, and you definitely won't have to struggle to replace rotted planks at the end of a hard winter. That said, there are a few things you can do to keep your siding looking like new throughout the year, and these sometimes vary depending on the style and type of the vinyl siding.
For instance, here are some tips for keeping your vinyl siding looking its best:
Wash the siding with soap and water if you find that it has gotten a little dirty after a storm and is covered with mud.
Make sure that you don't grill or have a fire pit too close to your home, because extreme heat can damage vinyl.
Limit the use of pesticides and herbicides near your vinyl siding, because these chemicals can also damage the exterior cladding.
Consider investing in landscaping to help shade the home from direct sunlight, which can cause high surface temperatures on your home.
All things considered, vinyl siding is an extraordinarily low maintenance product that can greatly improve and maintain the curbside appeal of your home. To learn more about all of the advantages of this high quality product, contact Alure Home Improvements and speak with one of our knowledgeable home remodelers.
Extra 5% Savings + 50% off Install!
For a limited time only, save and extra 5% on your project PLUS 50% off Install AND NO money down, NO payments, NO interest for 18 Months* - Act now! *SUBJECT TO CREDIT APPROVAL. Offers are for the stated time period only and may not be combined with any other offers, promotions or discounts. Some restrictions apply. Offer not applicable in all counties due to Consumer Affairs Restrictions. Offer not applicable in or to residents of New York City. Call for details on scheduling the imaging session.