Upgrade Your Laurelton, NY, Home with Vinyl Siding from Alure Home Improvements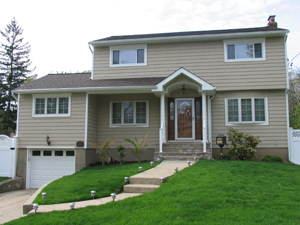 Vinyl siding is a popular home remodeling product for homes in Laurelton, New York, because it is extremely attractive, low maintenance, and energy efficient. At Alure Home Improvements, we know what it takes to install this unique type of siding the right way and will work tirelessly to ensure that you are completely satisfied with our handiwork. If you are looking for a practical way to upgrade the exterior of your home, search no further than our tremendous selection of vinyl siding.
Vinyl is in many ways preferable to other home remodeling materials because of how durable it is. Unlike wood, which can absorb moisture causing it to rot and warp over the years, vinyl stands the test of time. In fact, vinyl siding is so resilient it is won't ever fade, crack, or peel for as long as you own your home. You won't even have to ever stain or paint it. This helps ensure that your house continues to look great over the years, even in the face of harsh winter storms, the hot summer temperatures, frequent precipitation, and everything else that Mother Nature throws its way.
Vinyl siding is also a practical choice because it comes with many benefits that you won't necessarily find in other types of siding. For example, this type of exterior cladding:
Isn't susceptible to pest and insect infestation
Cuts down on outdoor noise
Withstands high wind temperatures
Helps inhibit heat transfer into and out of the home
Can usually be cleaned with little more than soap and water
To learn more about the specific ways in which vinyl siding can benefit your Laurelton, NY, home, contact us today and schedule a consultation. You're also welcome to stop by our three-story showroom in East Meadow to explore your options in person and hear all about our comprehensive siding installation service.
Extra 5% Savings + 50% off Install!
For a limited time only, save and extra 5% on your project PLUS 50% off Install AND NO money down, NO payments, NO interest for 18 Months* - Act now! *SUBJECT TO CREDIT APPROVAL. Offers are for the stated time period only and may not be combined with any other offers, promotions or discounts. Some restrictions apply. Offer not applicable in all counties due to Consumer Affairs Restrictions. Offer not applicable in or to residents of New York City. Call for details on scheduling the imaging session.