What Goes into the Vinyl Siding Installation Process?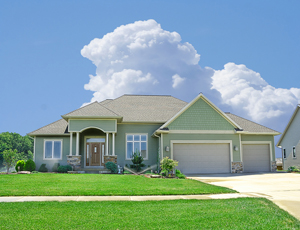 While vinyl siding is extremely durable, attractive, and easy to maintain, the siding on your home is only as good as the installation process. Improperly installed vinyl siding can be susceptible to a bevy of problems, including accelerated wear and tear, which are entirely avoidable. At Alure Home Improvements, our team of siding professionals is highly trained, certified, and well-versed in the latest design and installation techniques that can help ensure that your siding will look great and meet all of your functional needs for the years to come.
When it comes to proper vinyl siding installation, there are a number of things that must be remembered. For example:
Nails should be fastened in the center of the nailing slot, taking care that the nail penetrates a minimum of three-quarters of an inch into the surface.
When nailing the siding in place, the nail should not be tight against the siding nail hem. Instead, leave clearance between the head of the nail and the siding.
Panels should be overlapped away from entrances and areas of high traffic.
Panels should be free to slightly slide when fastened.
Locking panels should be able to fully lock but not stretch tight in place.
Vinyl siding should be cut with a reversed fine-toothed blade.
These are just a few examples of the considerations that must be made during the installation process. Rather than go it alone, rely on the experts who can ensure your siding is put in place correctly, limits waste and takes care to ensure that the siding looks beautiful on your home.
When it comes to siding installation, local homeowners turn to Alure Home Improvements for all of their needs. We offer a tremendous variety of siding products and will be glad to walk you through your options to find the perfect siding for your home.
Contact us today to learn more and speak with one of our knowledgeable designers.
Extra 5% Savings + 50% off Install!
For a limited time only, save and extra 5% on your project PLUS 50% off Install AND NO money down, NO payments, NO interest for 18 Months* - Act now! *SUBJECT TO CREDIT APPROVAL. Offers are for the stated time period only and may not be combined with any other offers, promotions or discounts. Some restrictions apply. Offer not applicable in all counties due to Consumer Affairs Restrictions. Offer not applicable in or to residents of New York City. Call for details on scheduling the imaging session.