Vinyl Siding for Homes in Huntington, New York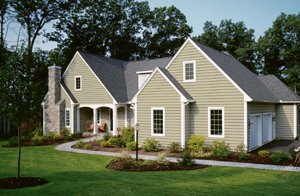 Installing vinyl siding on your home in Huntington, NY, is a practical solution if you're looking to significantly cut down on your home maintenance. That's because vinyl is extremely resilient and designed to stand up to inclement weather, regular wear and tear, and other factors that tend to take their toll on traditional siding materials. What's more, the vinyl siding that we offer at Alure Home Improvements is available in a variety of different colors and styles to help ensure that we are able to provide the right siding for your unique home.
Unlike many other building materials, vinyl does not absorb moisture. As a result, homeowners who have outfitted their homes with vinyl siding never have to worry about:
Warping
Rotting
Expanding
Contracting
Cracking
Vinyl also never needs to have stain applied because it won't fade, chip, or peel, helping to ensure that your siding continues to look great for years to come with minimal maintenance. More often than not, a little soap and water is all that is needed to help your vinyl siding retain its like-new appearance.
Our vinyl siding is also a practical option because it is an energy efficient product that can help prevent heat from entering and escaping the home, thanks to its foam backing. Once installed, the exterior cladding makes it easier, and thus more affordable, to keep the temperature of the home regulated throughout the year, regardless of the weather.
At Alure Home Improvements, we are extremely experienced in installing siding products and our dedicated siding professionals work tirelessly to ensure that they are intimately familiar with the best practices when it comes to installing the siding.
To learn more about the vinyl siding we offer homeowners in Huntington, NY, contact us today or stop by our showroom in East Meadow.
FREE Full View Storm Door ($500 Value)!
For a limited time only, get a FREE Full View Storm Door ($500 value) with your Complete Siding Package! PLUS NO money down, NO payments, NO interest for 18 Months* - Act now! *SUBJECT TO CREDIT APPROVAL. Offers are for the stated time period only and may not be combined with any other offers, promotions or discounts. Some restrictions apply. Offer not applicable in all counties due to Consumer Affairs Restrictions. Offer not applicable in or to residents of New York City. Call for details on scheduling the imaging session.