How Vinyl Siding Can Help You Weather a Storm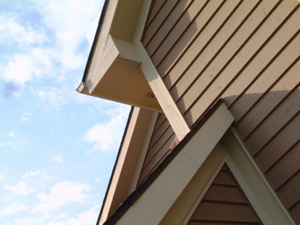 When you outfit your home with gorgeous vinyl siding, you can rest assured that you have invested in a siding product that has been designed to withstand inclement weather year round. One of the biggest selling points to vinyl is that it is built to be extremely durable and retain its like-new appearance over the years. Unlike other siding materials, vinyl never needs to be painted or stained and it won't warp, rot, fade, or peel with time, making it the ideal option for homeowners who are looking for a practical way to cut down on monthly maintenance.
As any homeowner knows, frequent rainfall, snowfall, and fluctuations in temperature can take a toll on the home. The problem is that many building materials absorb water, which can cause them to swell. When these materials expand, they grow susceptible to cracking, rotting, and becoming extensively deteriorated. Vinyl, on the other hand, doesn't absorb water, and can actually prevent moisture from accumulating on the siding itself. Additionally, vinyl is equipped to handle extremely high winds as well as sudden changes in temperature, providing you with the peace of mind that your siding will withstand just about any weather.
At Alure Home Improvements, we understand how important it is to have quality siding on your home, and our highly trained professional home remodelers are well-versed on the latest installation techniques to ensure that your vinyl siding will be installed efficiently and properly. We also offer our exclusive UltraShield siding and insulation system, which can further bolster the siding system, while making your home more energy efficient in the process.
To have a one-on-one discussion with one of our knowledgeable professionals about the various types of vinyl siding we offer, the siding installation process, and how vinyl has better durability and sustainability than many other siding products, contact us today.
Extra 5% Savings + 50% off Install!
For a limited time only, save and extra 5% on your project PLUS 50% off Install AND NO money down, NO payments, NO interest for 18 Months* - Act now! *SUBJECT TO CREDIT APPROVAL. Offers are for the stated time period only and may not be combined with any other offers, promotions or discounts. Some restrictions apply. Offer not applicable in all counties due to Consumer Affairs Restrictions. Offer not applicable in or to residents of New York City. Call for details on scheduling the imaging session.