Siding Options for Your Home in Suffolk County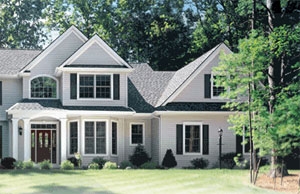 Installing new siding on your home in Suffolk County is a very practical way to immediately upgrade the exterior of your home. Yet, how can you be sure that the siding you select in the showroom will look good once it's installed? At Alure Home Improvements, we offer a solution in the form of our design imaging software.
This state-of-the-art technology allows one of our design specialists to upload a digital photograph of your home and then digitally alter the picture to reflect how your home will look with its new siding. There are several benefits to this service. For starters, having a visual representation of what your siding will look like on your home can take a lot of the uncertainty and stress out of the installation process. When you know what to expect, taking the plunge and investing in new siding isn't as stressful because you already know that your new siding will look great on your home.
Another advantage to utilizing this software package is that it gives you the freedom to experiment with unique siding options that you may have not otherwise considered. For example, since there is no risk involved, you can work with our design specialists to accent your home with gorgeous vinyl siding and cultured stone for a completely different look. This Visualizer also allows you to try out a particularly bold option just to see if it complements your home. Maybe it won't work for your home, but at least you'll know, and move onto other options.
In addition to our siding, our design specialists can use our imaging software to help you plan:
Roofing
Replacement windows
Kitchens
Bathrooms
And more
For more information about the specific types of siding we offer, our siding installation service, and the design imaging resources at your disposal, contact Alure Home Improvements.
Extra 5% Savings + 50% off Install!
For a limited time only, save and extra 5% on your project PLUS 50% off Install AND NO money down, NO payments, NO interest for 18 Months* - Act now! *SUBJECT TO CREDIT APPROVAL. Offers are for the stated time period only and may not be combined with any other offers, promotions or discounts. Some restrictions apply. Offer not applicable in all counties due to Consumer Affairs Restrictions. Offer not applicable in or to residents of New York City. Call for details on scheduling the imaging session.