Home Siding Options Available in Huntington, Commack, Dix Hills, Throughout Suffolk County and Across Long Island, New York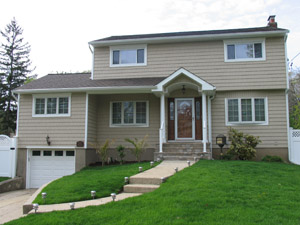 The team at Alure Home Improvements is proud to offer a wide variety of siding options to our customers in the Suffolk County community. Whether you're looking to improve the energy efficiency of your home with insulated vinyl siding, improve your curbside appeal with classic cultured stone, or are in the market for more traditional wood options, we're happy to help. Our design and production team has the firsthand experience and expertise necessary to meet your unique needs quickly, professionally, and affordably.
Beginning any new home remodeling project can sometimes be a little stressful because of the uncertainty. You may love the way your new siding looks in the showroom, but how can you be sure that it'll work on your home? At Alure Home Improvements, we offer a definitive answer with our state-of-the-art design imaging visualizer. This advanced software allows us to upload a digital photo of your home, which can then be altered to reflect what the house will look like with the various colors, patterns, and styles of siding that you may be considering.
A few examples of the types of siding options we offer include:
Vinyl
Cultured stone
Fiber
Brick
And more
We also understand that purchasing new home siding is a significant investment, which is why we go to great lengths to ensure that our products offer a tremendous value to the homeowner. In addition to increasing the property value of the house, our products can also help reduce monthly electrical bills thanks to UltraShield, our advanced siding insulation system. This innovative system features high-density foam and tongue and groove edges, which greatly limit the transfer of heat into and out of the home year-round, making it significantly easier and more affordable to regulate the temperature of the house.
To learn more about the various siding options and other home improvement products that we offer in Suffolk County and across Long Island, NY, including replacement windows, sunrooms, and kitchen remodeling, contact us today and schedule a complimentary consultation.
Extra 5% Savings + 50% off Install!
For a limited time only, save and extra 5% on your project PLUS 50% off Install AND NO money down, NO payments, NO interest for 18 Months* - Act now! *SUBJECT TO CREDIT APPROVAL. Offers are for the stated time period only and may not be combined with any other offers, promotions or discounts. Some restrictions apply. Offer not applicable in all counties due to Consumer Affairs Restrictions. Offer not applicable in or to residents of New York City. Call for details on scheduling the imaging session.