Is it Time to Invest in New Siding?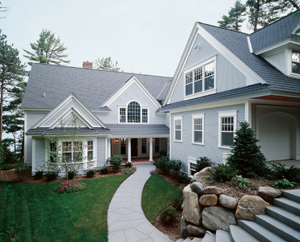 Over the years, your siding can naturally begin to deteriorate as a result of years of wear and tear, uncertain weather patterns, direct sunlight, pest and bird infestation, and other external factors. The problem with this is that worn siding can dramatically affect the curbside appeal of your home and may leave you at risk for other problems, such as water damage, heat gain and loss, and more. So, what are the warning signs and clear indicators that you should keep an eye out for that might tell you that it's time to start exploring your options?
For starters, a distinction should probably be made between when you need to replace your siding and when you probably should. In some instances, your siding might be structurally sound but has started to peel or fade, making your home look older and less attractive than it actually is. Painting and staining may be an option in this instance, but when boards have begun to split, the surface won't hold a new coat, or the siding has become damaged, you'll want to explore new options.,
Another consideration to keep in mind when you're thinking about replacing the siding of your home is whether the siding you have in place is simply out of date. Design trends change over the years and it is possible that what looked great twenty years ago might not be anymore. Alternatively, new siding can be a great way to accentuate the exterior of the home. For instance, installing stone or simulated stone siding can give the house a traditional feel.
You should also take the time to consider whether your siding is potentially harming the home. Damaged siding can affect the home's energy efficiency by allowing heat to enter the house in the summer and warmth to escape in the winter. If you are looking to improve the overall thermal performance of your property, purchasing vinyl siding with a foam backing is a great first step. Siding that has deteriorated can also allow water to seep into your walls, which can lead to potentially major and expensive damage to your home.
To learn more about the siding options that are available to you and for assistance determining whether it might be time to make a change, contact Alure Home Improvements and schedule a consultation.
FREE Full View Storm Door ($500 Value)!
For a limited time only, get a FREE Full View Storm Door ($500 value) with your Complete Siding Package! PLUS NO money down, NO payments, NO interest for 18 Months* - Act now! *SUBJECT TO CREDIT APPROVAL. Offers are for the stated time period only and may not be combined with any other offers, promotions or discounts. Some restrictions apply. Offer not applicable in all counties due to Consumer Affairs Restrictions. Offer not applicable in or to residents of New York City. Call for details on scheduling the imaging session.