Selecting the Right Kind of Siding for Your Home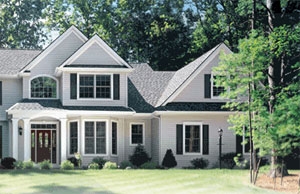 With so many different types of home siding to choose from, it can sometimes be a little difficult to know what kind of siding will work best for you. You want to make sure that the siding you select will look great on your home, fit well within your budget, and meet all of your practical needs. To help you sort through all of your options, the design team at Alure Home Improvements is standing by and will gladly help you make the right choice.
At Alure Home Improvements, we're dedicated to providing quality siding products, each of which offer their own distinct advantages. Some of the popular siding options we offer include:
Vinyl, The appeal to vinyl is that it is extremely low-maintenance, won't fade, chip, or peel over the years, and never requires painting. Vinyl siding is also energy efficient and can help limit the transfer of heat into and out of the home when installed with a layer of insulation underlayment.
Cultured stone, The benefit to cultured stone is that it has been designed to replicate the beauty of natural stone but is more affordable and easier to install. Because natural stone tends to be heavy and difficult to manage, it isn't always a viable option for many homeowners, making cultured stone the preferred alternative.
Fiber cement, This siding product is designed to offer an authentic wood grain appearance but is considered much more weather-resistant than traditional wood. Fiber cement siding is also available in several different colors and stains, offering the homeowner many options to consider for their home.
Wood, Traditional wood siding is an affordable option that is available in many different styles, stains, and types, and is customizable depending on the homeowners' unique aesthetic preferences.
To learn more about the specific advantages to each type of siding product offered at Alure Home Improvements and the siding installation process, contact us today.
Extra 5% Savings + 50% off Install!
For a limited time only, save and extra 5% on your project PLUS 50% off Install AND NO money down, NO payments, NO interest for 18 Months* - Act now! *SUBJECT TO CREDIT APPROVAL. Offers are for the stated time period only and may not be combined with any other offers, promotions or discounts. Some restrictions apply. Offer not applicable in all counties due to Consumer Affairs Restrictions. Offer not applicable in or to residents of New York City. Call for details on scheduling the imaging session.