Helpful Tips for Vinyl Siding Maintenance and Cleaning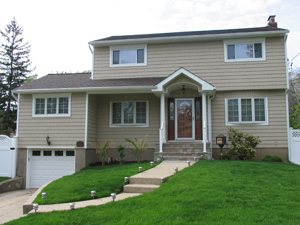 Vinyl siding is an extremely popular option for exterior cladding in North America, in no small part because it's extremely durable. Unlike traditional siding materials that tend to fade over time and can be susceptible to wear and tear, vinyl siding tends to retain its like-new appearance much longer with minimal maintenance. So, what are the steps you can take to maximize the lifespan of your vinyl siding and keep it looking its best for the years to come?
While vinyl siding is very resilient and requires little maintenance to keep clean, the following tips can help you protect your siding from damage:
Check manufacturers' directions for approved cleaning products. In most cases, little more than soap and water will be needed to keep the siding clean.
If you're using a power washer to clean your vinyl siding, keep it at eye level. Water shot upward from a power washer can actually push water between the siding and lead to long-term problems.
Gently washing the siding with a cloth or soft brush is preferred to other cleaning methods and is usually an effective means of removing dirt and other blemishes.
Take special care to keep vinyl siding away from excess heat. An open grill, for example, could damage the siding on your home. Concentrated sunlight, as from a window reflection, can also damage siding and should be avoided.
Cover your siding when you're doing any home improvement projects to the exterior of your home, such as painting, staining shutters, roofing, or concrete work.
If damage does occur, have the repairs made by a professional who can ensure that further problems don't arise.
Consult your siding manufacturer before painting.
At Alure Home Improvements, our team is extremely knowledgeable about vinyl siding maintenance and will gladly work with you to make sure you know how to keep your siding looking as good as it does the day it's installed. For more information, contact us today and schedule a complimentary design consultation at your convenience.
Extra 5% Savings + 50% off Install!
For a limited time only, save and extra 5% on your project PLUS 50% off Install AND NO money down, NO payments, NO interest for 18 Months* - Act now! *SUBJECT TO CREDIT APPROVAL. Offers are for the stated time period only and may not be combined with any other offers, promotions or discounts. Some restrictions apply. Offer not applicable in all counties due to Consumer Affairs Restrictions. Offer not applicable in or to residents of New York City. Call for details on scheduling the imaging session.