Siding Options for Homes in Laurelton, New York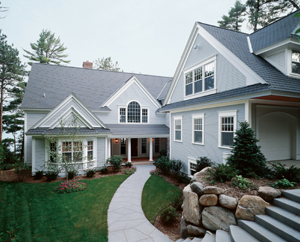 If you're considering updating the siding on your Laurelton, NY, home, rely on the experienced professionals at Alure Home Improvements. Our dedicated siding experts know what it takes to install the siding of your choice to your standards and will work tirelessly to ensure that you are thrilled with the finished result. Whether you're looking for a practical way to cut down on exterior maintenance, your home could use a bit of a facelift, or you're just ready for a change, you're bound to find the perfect solution in our tremendous siding selection.
One of the nice things about choosing new siding for your home is that there is no shortage of options for you to consider. And, when you turn to Alure Home Improvements, you can take advantage of our state-of-the-art design software to see what various siding options will look like on your home before you go ahead with the installation. This can be a boon in the siding shopping experience because it takes away a lot of the guesswork that come from shopping out of a catalog.
A few of the types of siding that we offer include:
Vinyl siding, Vinyl is especially popular because it is extremely low maintenance and very durable to weathering.
Cultured stone, Stone veneer looks like natural stone but is much less cumbersome and expensive, making it an appealing alternative.
Wood, A classic choice, wood is extremely attractive, perfect on all sorts of homes, and is available in numerous stains and grains.
Of course, these are just a few examples of siding options we offer at Alure Home Improvements. We also offer natural stone, stucco, brick, and much more, to say nothing of the trim options and various accessories we feature.
To learn more about all of the siding we offer to homeowners in Laurelton, contact us today or stop by our conveniently located showroom in East Meadow, NY.
FREE Full View Storm Door ($500 Value)!
For a limited time only, get a FREE Full View Storm Door ($500 value) with your Complete Siding Package! PLUS NO money down, NO payments, NO interest for 18 Months* - Act now! *SUBJECT TO CREDIT APPROVAL. Offers are for the stated time period only and may not be combined with any other offers, promotions or discounts. Some restrictions apply. Offer not applicable in all counties due to Consumer Affairs Restrictions. Offer not applicable in or to residents of New York City. Call for details on scheduling the imaging session.