Siding Installation for Homes in Huntington, Commack, Dix Hills, Throughout Suffolk County & Across Long Island, New York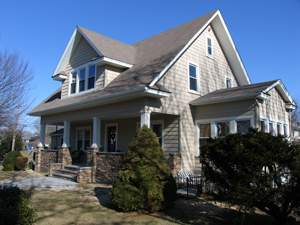 The siding installation service offered by Alure Home Improvements in Suffolk County is an outstanding way to immediately upgrade the curbside appeal of your home. We offer a wide variety of siding materials, including vinyl, wood, cultured stone, and more, which helps ensure that no matter your aesthetic preferences, you're sure to find the siding that will fully meet your needs. Plus, our siding contractors are highly skilled and trained in the latest installation techniques, so you can rest assured that your new siding will be installed correctly and as quickly as possible.
One of the most popular types of siding that we offer is vinyl siding because. in addition being extremely attractive, vinyl is also highly practical. This high-quality material is extremely durable and is designed to withstand years of wear and tear with little maintenance. Plus, the installation of vinyl siding on your home can actually improve the energy efficiency of your property, helping to cut down on monthly electric bills.
Siding installation at Alure Home Improvements is also extremely easy thanks to our state-of-the-art design imaging software. Using this exclusive software package, our design team is able to digitally alter a photograph of your home with various siding options, allowing you to see what the siding will look like on your home before construction begins. This software cuts down on mistakes, helps ensure you're satisfied with the siding you select, and can give you peace of mind during the installation process.
In addition to our various siding options, we offer several other home remodeling products in the area, including:
Sunrooms
Gutters
Walk in tubs
Basement Finishing
And more
For more information on siding installation in Suffolk County, contact Alure Home Improvements today and schedule a consultation with one of our representatives or stop by our three-story showroom in East Meadow, New York, and explore our siding options yourself.
Extra 5% Savings + 50% off Install!
For a limited time only, save and extra 5% on your project PLUS 50% off Install AND NO money down, NO payments, NO interest for 18 Months* - Act now! *SUBJECT TO CREDIT APPROVAL. Offers are for the stated time period only and may not be combined with any other offers, promotions or discounts. Some restrictions apply. Offer not applicable in all counties due to Consumer Affairs Restrictions. Offer not applicable in or to residents of New York City. Call for details on scheduling the imaging session.