Siding Installation in Little Neck, Flushing, Laurelton, Throughout Queens County & Across New York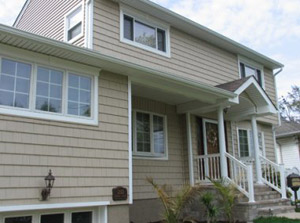 At Alure Home Improvements, we make siding installation extremely easy for homeowners in Queens County thanks to our experienced staff. Over the years, we've developed a sterling reputation in the community for the quality of our products and our commitment to customer service, and we work extremely hard to exceed the expectations of every homeowner who comes to us. We also offer a wide variety of siding options to choose from, so no matter the unique aesthetic preferences and budget of the homeowner, we're able to meet their needs.
The installation of new siding is a great way to immediately and dramatically upgrade the exterior décor of any home. Our team is well-versed in the latest industry trends, and our designers enjoy working with homeowners to help them explore their options and find the siding that will work best on their home. Plus, one of the biggest advantages to turning to Alure Home Improvements for siding installation is that the homeowner gets access to our state-of-the-art design software. This advanced program is used by our designers to digitally alter a photo of the home with a wide variety of siding options, allowing the homeowner to see what their house will look like with the new siding long before construction begins. This software is ideal because it lets the homeowner get creative and also have a very clear idea of what their new siding will look like, making the siding installation process less stressful in the long run.
Alure Home Improvements offers several siding types, including:
Vinyl
Cultured stone
Wood
Fiber cement
Rugged cedar
And more
To learn more about the advantages of our siding installation service in Queens County, contact us today. We're also happy to offer a variety of other home remodeling services, such as basement finishing, kitchen remodeling, and more.
Extra 5% Savings + 50% off Install!
For a limited time only, save and extra 5% on your project PLUS 50% off Install AND NO money down, NO payments, NO interest for 18 Months* - Act now! *SUBJECT TO CREDIT APPROVAL. Offers are for the stated time period only and may not be combined with any other offers, promotions or discounts. Some restrictions apply. Offer not applicable in all counties due to Consumer Affairs Restrictions. Offer not applicable in or to residents of New York City. Call for details on scheduling the imaging session.