Siding Installation Services for Homes in Merrick, Syosset, Massapequa, Baldwin & Throughout Nassau County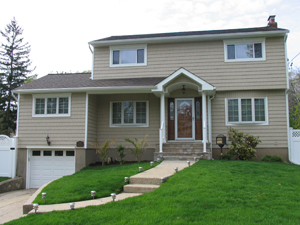 If you're looking for professionals to handle your next siding installation project in Nassau County, trust in the team at Alure Home Improvements. We are qualified to install exterior siding of all kinds and will work diligently to ensure that you are completely thrilled with our handiwork. Professional siding installation is always a good investment because it provides you with peace of mind that your siding was installed correctly while adhering to local building codes and manufacturers' standards.
At Alure Home Improvements, we want to make the siding installation process, from start to finish, as easy on you as possible. This starts by selecting the right kind of siding for your unique home, one that meets your specific needs and also complements the architecture and design of your home. Whether you're interested in outfitting your home with vinyl siding, cultured stone, fiber cement, or any other type of exterior cladding, we can help, no job is too big for our siding installation team. To help you sort through your options, we utilize state-of-the-art design imaging software that allows you to see what your new siding will look like on your home before it is actually installed. This is also a great way to explore different options, color schemes, and siding materials to find the perfect solution for your home.
Here are a few other advantages to our siding installation service:
You have a dedicated production supervisor at your disposal all day, every day in case you have any questions or concerns during theinstallation process
We offer a robust 10-year workmanship warranty and stand behind all of the work that we do
Alure has a service department that is accessible 24/7, in the event of an emergency, there is someone on call to be able to address your issues
We partner with some of the most well-respected siding manufacturers in the industry to ensure we offer only top-quality products
We pride ourselves on white glove customer service and will go to great lengths to keep your property as neat as possible during the siding installation
We value safety above all else, are fully insured, licensed, and certified, and are up-to-date on local and national safety codes
To learn more about the siding installation service that we offer in Nassau County, contact us today. We proudly serve homeowners in Merrick, Syosset, Massapequa, Baldwin, and other area locations throughout Long Island, NY.
FREE Full View Storm Door ($500 Value)!
For a limited time only, get a FREE Full View Storm Door ($500 value) with your Complete Siding Package! PLUS NO money down, NO payments, NO interest for 18 Months* - Act now! *SUBJECT TO CREDIT APPROVAL. Offers are for the stated time period only and may not be combined with any other offers, promotions or discounts. Some restrictions apply. Offer not applicable in all counties due to Consumer Affairs Restrictions. Offer not applicable in or to residents of New York City. Call for details on scheduling the imaging session.