How Design Imaging Software has Revolutionized the Siding Industry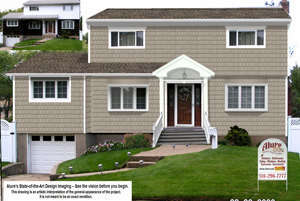 Let's face it. Buying new siding for your home is a big deal. You want to make sure that you invest in siding that exudes your sense of style and also complements the architecture, age, and design of your unique home, and this is sometimes easier said than done. One of the reasons that homeowners are sometimes leery to make a change is that it can be hard to imagine what the new siding will look like after they've had years, or even decades, to get used to their current cladding. Even if it is clear that the siding needs to be replaced, change can be scary. And, how can you be certain that you are making the right choice for your home?
The answer rests in design imaging software.
One of the best things that some home remodelers are now offering is a visualization service that allows you to see what new siding (or other home remodeling products) will look like before it is installed. Using state-of-the-art software, talented designers can digitally alter a photo of your home to reflect what it will look like once the siding is installed. This takes almost all of the guesswork out of shopping for siding and lets you make a choice with confidence because you'll know what the finished product will look like once it's in place. Plus, many homeowners find that, thanks to this service, they can explore new, distinct siding options that they might have never considered since there's no risk in just seeing what it'll look like. Sure, the bold color choice or unique siding style might not work at all, but what if it does? Visualization software lets you explore all sorts of fun options to find the perfect combination for your home.
Above all else, this technology helps reduce some of the stress and uncertainty that can come from investing in new siding for your home. It also allows you to spend more time focusing on the specific benefits of the siding and less time laboring over color patterns.
To learn more about all of your siding options and to take full advantage of highly advanced design imaging software, turn to the trusted professionals at Alure Home Improvements.
FREE Full View Storm Door ($500 Value)!
For a limited time only, get a FREE Full View Storm Door ($500 value) with your Complete Siding Package! PLUS NO money down, NO payments, NO interest for 18 Months* - Act now! *SUBJECT TO CREDIT APPROVAL. Offers are for the stated time period only and may not be combined with any other offers, promotions or discounts. Some restrictions apply. Offer not applicable in all counties due to Consumer Affairs Restrictions. Offer not applicable in or to residents of New York City. Call for details on scheduling the imaging session.