Siding Options for Your Hicksville Home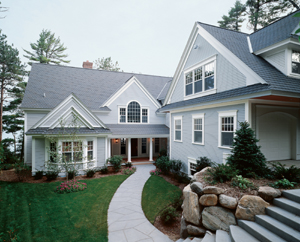 One of the best ways to immediately upgrade the exterior of your Hicksville home is by investing in new siding from Alure Home Improvements. We proudly offer a tremendous variety of exterior cladding options, ranging from modern, low-maintenance vinyl to gorgeous cultured stone siding, so no matter your specific aesthetic needs, we can handle the job. Our team of siding professionals is extremely knowledgeable about the latest design trends and installation techniques in the industry, and will work tirelessly to exceed your expectations.
Choosing the right kind of siding for your home is a big decision. You want to make sure that you select a siding option that will satisfy your aesthetic requirements, but also comes with the built-in features that will work best for you. For example, vinyl siding is extremely popular among many homeowners because unlike many traditional siding materials, vinyl does not absorb water. As a result, it will never expand, fade, chip, peel or rot, making it extremely easy to maintain. Vinyl siding is also an excellent choice because it's highly energy efficient and can help inhibit the transfer of heat into and out of the home.
Another popular type of siding that we offer is our cultured stone, or fiber cement stone veneer, product. One of the problems with natural stone is that it is extremely heavy and can be cumbersome to work with, which drives up cost. Plus, some home walls are not strong enough to support traditional stone without reinforcement, which may not be entirely practical. Our cultured stone siding, on the other hand, is designed to give the natural appearance of stone, but is much easier to install, doesn't weigh nearly as much, and is more affordable.
We also offer several other siding products, including:
Fiberglass
Wood
Soffit/fascia
Versetta stone
And more
For additional information about the benefits of each type of siding we offer in Hicksville, contact Alure Home Improvements today and speak with one of our experienced exterior home remodelers.
Extra 5% Savings + 50% off Install!
For a limited time only, save and extra 5% on your project PLUS 50% off Install AND NO money down, NO payments, NO interest for 18 Months* - Act now! *SUBJECT TO CREDIT APPROVAL. Offers are for the stated time period only and may not be combined with any other offers, promotions or discounts. Some restrictions apply. Offer not applicable in all counties due to Consumer Affairs Restrictions. Offer not applicable in or to residents of New York City. Call for details on scheduling the imaging session.