The Premier Siding Contractor in Little Neck, NY
Is the siding on your home old and worn? Do you notice missing, peeling, cracking, or warping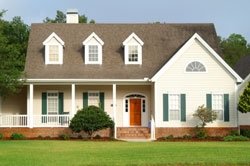 boards? If this is the case, don't stress, the professionals at Alure Home Improvements are here and ready to help.
For over 75 years, we have proudly been the leading siding contractor in the Little Neck, New York, area. Our team installs top-quality siding that offers exceptional durability and beauty. What's more, when you partner with us, you can expect flawless workmanship and unmatched customer service throughout your siding project.
A Local Siding Contractor You Can Trust
Siding functions as a critical protective barrier between your home and anything Mother Nature may have in store. Whether it's enduring pelting rain or rough winds, your siding should be able to withstand inclement weather of any kind. At Alure, we are a siding contractor that recognizes this, which is why we proudly offer the best siding options on the market. Our selection includes:
CertainTeed vinyl siding
Louisiana-Pacific (LP®) SmartSide engineered wood siding
CertainTeed stone façade
We can also update your home's soffit and fascia during your siding project. And for your peace of mind, we back our siding installations with generous labor warranties.
Get Started Today
Go with a siding contractor that can do the job right the first time and contact the experts at Alure Home Improvements today. To learn more about the siding we install for homeowners in Little Neck, NY, schedule a free consultation.
Alure Online
Specials
View A Complete List Of Our Specials
Some restrictions apply, click the button below for more details.