Beautiful Home Siding Options in Oceanside, Bellmore, Valley Stream & Throughout Nassau County, NY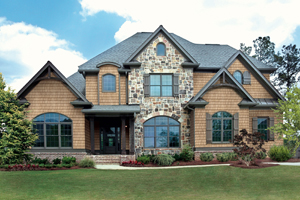 Choosing the siding for your home in Nassau County, New York, is an important consideration. First and foremost, you obviously want to make sure that the siding you choose complements the style and architecture of your home. Yet, there is so much more to shopping for siding than simply finding an option that looks great in a catalogue. To help you make sense of all of your options and ensure that you choose the best possible siding for your home in Bellmore, Valley Stream, Oceanside, or anywhere else in the area, the team at Alure Home Improvements is here to assist you.
One of the things that sets Alure Home Improvements apart from the competition is that we offer homeowners access to our state-of-the-art design imaging technology. Using highly advanced software, our design team can actually digitally alter a photograph of your home to reflect what it will look like with different siding options installed. This service:
Allows you to experiment with different styles of home siding to find the ideal choice for your specific property.
Incentivizes trying out unique patterns, siding combinations, and color choices; perhaps your siding ideas won't work on your home, but this way you can try it out first in our showroom and see.
Provides peace of mind that you've made the right choice for your home. By being able to see what the siding will look like once it's installed, it takes much of the guesswork out of shopping and can reduce anxiety on the day of the installation.
At Alure Home Improvements, we offer all sorts of home siding to choose from, ranging from highly durable and energy efficient vinyl siding to stunning stone veneer, which provides the look and feel of natural stone without the cost or difficult installation process.
If you are interested in learning about the various styles of home siding available to you and you would like to see what our products would look like on your home before the project ever begins, stop by our gorgeous showroom in East Meadow, NY. You're also welcome to contact us and schedule a consultation at your home in Oceanside, Bellmore, Valley Stream, or anywhere else on Long Island.
FREE Full View Storm Door ($500 Value)!
For a limited time only, get a FREE Full View Storm Door ($500 value) with your Complete Siding Package! PLUS NO money down, NO payments, NO interest for 18 Months* - Act now! *SUBJECT TO CREDIT APPROVAL. Offers are for the stated time period only and may not be combined with any other offers, promotions or discounts. Some restrictions apply. Offer not applicable in all counties due to Consumer Affairs Restrictions. Offer not applicable in or to residents of New York City. Call for details on scheduling the imaging session.