Using Design Imaging to Visualize New Exterior Cladding on Your Suffolk County Home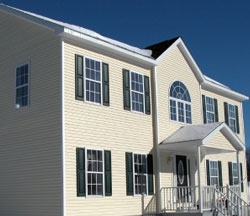 If you're thinking about upgrading the exterior cladding on your Suffolk County home, consider the advantages to working with the team at Alure Home Improvements. We understand that selecting new siding can sometimes be a challenge with so many options, color schemes, and patterns to choose from, and it can sometimes be difficult to decide what kind of siding will look best on your home. To address this issue, we're pleased to feature state-of-the-art design imaging software that takes much of the guesswork out of exterior home remodeling.
Over the years, we've learned that one of the persistent problems that make many people nervous when they're remodeling their house is the uncertainty of how their new exterior cladding will look once it's installed on their home. Sure, the selection might look good in photos or in the showroom, but how can you be confident that it will complement the exterior of your house? The answer lies in our exclusive Design Imaging software. Using this highly advanced technology, we're able to upload a photograph of the exterior of your home and then digitally alter that photo to show you what different siding options will look like after they're installed on your home.
The benefit to this software is that it gives you the opportunity to explore a variety of siding options, even choices you may have previously glossed over, to try to find the perfect combination for your home. For example, if you are torn between two finishes or can't decide on vinyl or cultured stone siding, being able to see it on your home may make all of the difference. Then, when the time comes for the siding to be installed, you can rest assured knowing that you will love the finished product. Home remodeling has never been less stressful.
To learn all about the wide variety of exterior cladding options that we offer and to take advantage of our design imaging software, contact Alure Home Improvements and make an appointment at our gorgeous showroom in East Meadow, New York.
Extra 5% Savings + 50% off Install!
For a limited time only, save and extra 5% on your project PLUS 50% off Install AND NO money down, NO payments, NO interest for 18 Months* - Act now! *SUBJECT TO CREDIT APPROVAL. Offers are for the stated time period only and may not be combined with any other offers, promotions or discounts. Some restrictions apply. Offer not applicable in all counties due to Consumer Affairs Restrictions. Offer not applicable in or to residents of New York City. Call for details on scheduling the imaging session.