Eldorado Stone Siding
Eldorado Stone Siding Installed by Home Improvement Professionals Based on Long Island, NY
Eldorado stone siding is manufactured stone veneer that's much lighter, less costly, and easier to install than stone siding. Every piece of Eldorado stone is cast from special molds of real stone to look beautifully authentic. It's no stretch to say that it's The Most Believable Architectural Stone Veneer in the World™. That's why Alure Home Improvement proudly installs it for homeowners in New York who want the timeless appeal of stone without the expense.
Why Choose Eldorado Stone Veneer?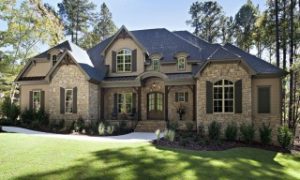 Throughout history, stone buildings have always suggested permanence and durability—hence, the enduring popularity of stone siding. At one time, most stone siding was manufactured from real stone that was carefully selected and cut to a standard thickness. But because of the expense associated with mining, cutting, transporting, and hiring a mason to install stone siding, stone veneer has become much more common. Today, architects, builders, and homeowners prefer Eldorado stone siding because it:
Is designed to adhere easily to a variety of surfaces and can be used in projects that would make natural stone difficult and costly to install
Offers the range of textures, sizes, shapes of natural stones due to a state-of-the art manufacturing process that captures every detail down to the smallest level
Comes in a palette of visually striking colors with rich, authentic tones—from mossy greens to golden umbers
Can be installed at a cost of up to 50% less than real stone siding because of its light weight, which eliminates the need for wall ties or footings
Installation You Can Trust
Founded in 1946, Alure Home Improvements has a long history of success with siding installations. Our many industry awards, which include being named Remodeler of the Year by Professional Remodeler Magazine, are proof of our commitment to providing installations that enhance the beauty, comfort, and functionality of New York homes. We back all of our stone veneer siding installations with a robust warranty in addition to any manufacturer's warranty. For more information about our Eldorado stone siding, contact Alure Home Improvements to schedule a free consultation with one of our siding specialists.
Alure Online
Specials
View A Complete List Of Our Specials
Some restrictions apply, click the button below for more details.