What Can Cultured Stone Siding Do For You? An Overview of the Benefits to this Type of Siding and its Installation Process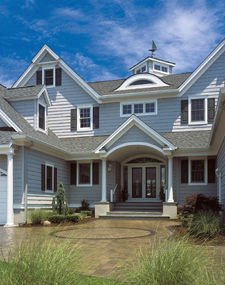 There are few things more attractive on a home than stone siding. Natural stone draws the eye, gives the home character and a lived-in look, and can complement the exterior of the home in a significant way. The problem, however, with natural stone is that it really isn't particularly practical. Stone, as you can imagine, is exceedingly heavy, which makes the installation process cumbersome. You need to make sure that the wall is strong enough to support the weight of the stone and laying natural stone takes time and a skilled installer to do the job right. However, if you're in love with the look and feel of natural stone but don't want to deal with the expense and hassle of the installation process, cultured stone siding is an outstanding alternative that should be considered.
Stone veneer is unique because it is manufactured to look exactly like natural stone but is usually less than an inch thick and weighs around 15 pounds or less per square foot. What this means is that it is far more flexible than natural stone and can be installed in all sorts of places around the home, including walls both indoors and outdoors that aren't as well equipped for load bearing. For instance, many people like to accent their fireplace or stairwell with stone veneer in addition to installing it outdoors to complement their vinyl siding. Another nice thing about stone veneer is that because it is fabricated out of a natural stone mold, it can be manufactured in a variety of different designs and colors to meet your specific needs. This variability allows you more control over what the finished product will look like once it is installed.
The actual installation process depends mostly on the specific wall that will be supporting the stone siding, as well as local building codes in the area. However, for our purposes, here are just a few general tips:
Focus on having tight joints between the individual stones
Always start at the bottom and work your way up
Focus on corners first and work from there
Press the stones in place so that mortar comes out through the edges
Be prepared to cut and trim pieces to fit your needs
As you can tell, a number of factors go into installing stone veneer the right way. While it is much easier to work with than natural stone, stone veneer is best installed by experienced professionals who can do the job right. To learn more about your siding options, contact the team at Alure Home Improvements and schedule a consultation.
Extra 5% Savings + 50% off Install!
For a limited time only, save and extra 5% on your project PLUS 50% off Install AND NO money down, NO payments, NO interest for 18 Months* - Act now! *SUBJECT TO CREDIT APPROVAL. Offers are for the stated time period only and may not be combined with any other offers, promotions or discounts. Some restrictions apply. Offer not applicable in all counties due to Consumer Affairs Restrictions. Offer not applicable in or to residents of New York City. Call for details on scheduling the imaging session.