Five DIY Projects to Revamp Your Bedroom

Five DIY Projects to Revamp Your Bedroom
To me the bedroom is a sanctuary; a place I go to, to not just sleep, but also when I really want some peace and quiet from the loudness of life that can often happen. But lately my sanctuary has been losing its luster to me, I find children's toys creeping in on my space, and overall, I feel like it needs some refreshing.
A bedroom makeover is a great way to give your sanctuary a facelift and make it that relaxing oasis it once was to you. And if you are worried that your bedroom is so small that there really isn't much you can do for it, there are a few tricks you can try that will help you to spiff up your room with minimal effort.
1. A Fresh Coat of Paint
Nothing helps you when decorating a bedroom on a budget better than sticking to the old trusted and true paint job. Whether you choose to paint your bedroom walls, closet doors, furniture, or even the ceiling, it really can help to give your bedroom a makeover while keeping the cost minimal.
The hardest part will be moving or taking out the furniture from your room, but once you finish this easy DIY task, you'll feel like you have a whole new room over the span of a couple of days. Be sure to use a primer on any furniture you choose to paint so that the color you select really sticks to the surface.
2. New Bedding and Accessories
Nothing says bedroom décor more than the bedding you decide to use. Whenever possible, I like to search Pinterest for ideas and then once I find one that I love, I research how I can do that myself for as little cost as a possible. (I'm a bit frugal, that way).
Throw pillows are a great way to add a pop of color but can get expensive if you buy them already done up. And besides, this is a post about DIY bedroom projects, so why not make your own pillows or decorate the bedding to go along with them?
With a blank pillowcase, blanket, and stuffing from a fabric store, all you need is some fabric paint, some masking tape or fabric glue, and other add-ons like buttons, sequins, and whatever else you like to make your own bedding creations.
3. De-clutter
The biggest change I have seen over the years to my bedroom is the amount of clutter that ends up there. So, not only did I go through all the stuff that was lying around, but I also decided to find a better place for the stuff I actually wanted to keep.
That meant some DIY shelving projects and the like. Shelves are great, and are relatively cheap and easy to put up on your own, but if you are looking for something that adds more character to your bedroom design then why not go for something else?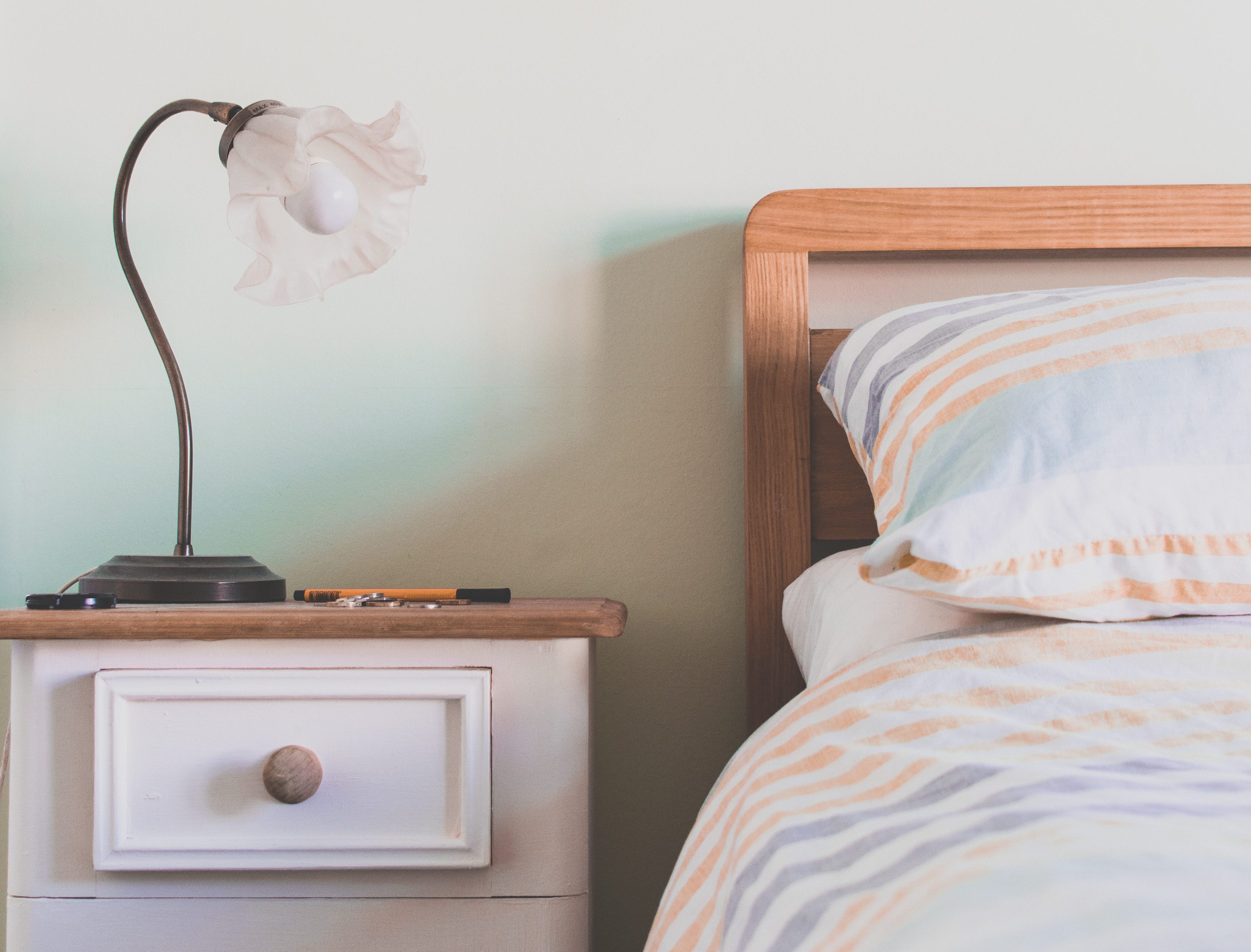 Mason jars are huge right now, plus they are cheap and add that classic but modern look at the same time. There are many DIY projects that involve these glass jars, from those that go on a desk to those that hang on your wall. So, get searching and get creative.
4. Replace Your Headboard
My husband and I picked out our original bedroom set when we were married, ten years ago. So, what better way to revamp the bedroom than with a new headboard. This is a great DIY bedroom project that also can reuse old doors you have lying around.
Whether an actual door from a room or how about closet doors? Simply add a coat of paint or perhaps give it a worn, old look with some varnish, and voila, you have a new headboard for the back of your bed.
Plus, we now have a good ten inches more at the bottom of our bed because our old headboard was quite thick. So, I decided to get a chest to put there for more storage. And it really has added a great pop of color, and an interesting element to the room.
5. Odds and Ends
There are plenty of bedroom designs out there that are all DIY projects and that are a fun and creative way to add some freshness to your bedroom sanctuary. From reusing an old mattress spring to hang jewelry, to making pillowcases out of sweaters, or why create a floor mat from older bath towels?
The possibilities are endless and if you are still seeking some more great ideas, be sure to check out this article for creating the best design for your dream bedroom for a better sleep. As for me, I am going to now go back to my improved sanctuary, that is before the kids discover it and take it over.
About the author: Danielle thrives on researching and writing on all aspects of life. Further to writing for Zumper blog and personal finance, she is an advocate of self-improvement and living a life that is both financially responsible and knowledgeable. When she is not on her computer, she can be found spending time with her husband and two sons.