What To Do About Fallen Trees On Your Property

A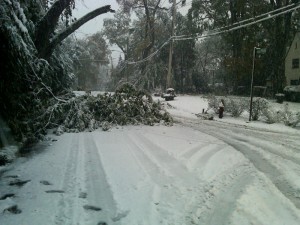 freak winter storm that blew through much of the northeast United States has left many residents with a tricky early November problem: fallen trees on their property. If a tree has fallen on your roof or any part of your home calling a professional tree removal service is critical. The tree needs to be removed without doing additional damage to the home. Check with your home owners insurance company and file a claim. Many policies will cover the tree removal in this circumstance and may cover any roofing repairs that need to be made. While tree removal work can be done by a homeowner, it is not advised by governmental agencies or insurance companies. The bottom line is, tree removal can be a tough job requiring heavy machinery, equipment you should be experienced in using and the possibility of working around electrical wires. Below are several tips for homeowners who are looking into removing a tree.

First things first contact your insurance agency to see if tree removal expenses are covered under your homeowners insurance policy. If you have a tree on property that has fallen, your insurance may cover removal expenses. However, these expenses are likely only to be covered if a professional removes the tree safely and properly. If you are going to be making a claim on your insurance policy, do not move any part of the tree unless absolutely necessary and be sure to take photos of the fallen tree and any subsequent damage to property that it caused.
When looking at getting rid of a tree, assume that all power lines are working. Contact your utility company before going near a fallen tree that is entangled with a downed wire.
The Occupational Safety and Health Administration, or OSHA, requires that any tree removal work within 10 feet of a power line be done by a professional. Homeowners with a downed tree near any power lines should not do any removal work on their own, this is for their own safety and the safety of others.
Ultimately, it is important that a homeowner have a professional remove any fallen trees on their property. Professionals have access to and experience with large equipment that is needed to safely and effectively remove a tree from your property. A variety of parties and organizations must be involved in the removal of a tree, especially if it occurs near power lines. Professionals know the right people to contact, and the way the job must be done in order for an insurance company to cover the costs for the homeowner.
If you have recently been affected by the October snowstorm that blew through the East Coast this past weekend, consider using a professional service for tree removal. This will ensure that the job is done right, protecting both you, your neighbors and any other relief workers who may be in the area. While many home improvement projects can be done on your own, do-it-yourself tree removal is not recommended by either the government or insurance companies.
Tell us did any trees fall down on your property, causing power outages or other damages? What tree removal companies have you contacted and do you have any recommendations you can give others? What steps have you taken to ensure proper tree removal?