Three's Company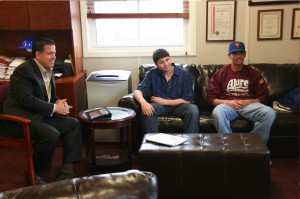 ABC's hit show, Extreme Makeover : Home Edition does a wonderful job of pulling together communities all over the country to help out deserving families. If you have ever seen the show, you know how moving and inspiring it is to see this kind of philanthropy. After seeing a recent build that Sal Ferro, President/CEO of Alure Home Improvements led, a young man from Bellmore wanted to meet Sal in person because he felt they had so much in common. His name"¦ Sal Ferro.

Sal was watching the Lutz family makeover and was wishing he could have been at the build to help. He loves community service and from a young age he always had a tool in his hand, looking for ways to build things and help anyone that he could in the neighborhood. At 16 years old, Sal currently volunteers as a junior firefighter at the North Bellmore Fire Department and has been washing trucks and helping around the firehouse since he was 10 years old! His goal in life is to join the fire department and go to school to become an architect, engineer and contractor. (Older) Sal Ferro grew up with similar goals and similar mindset to taking care of the community any way he could. Sal's single mother, Cathy Ferro has been feeling the effects of the down economy, having a tough time landing a full time job. So Sal currently works part time at Madison's Smoothie's and voluntarily giving his mother his paychecks.
Cathy recently wrote (Older) Sal a letter asking him for a favor. She wanted to surprise her son, and bring her by the Alure office to meet Sal Ferro in person. With open arms, Sal Ferro invited them both to the office to chat it up about anything and everything young Sal wanted to talk about. Sal invited his son Sal Ferro, Cathy and her son Sal Ferro. What!? That's right, three Sal Ferros spent a couple of hours together talking about construction, community service, the amazing similarities the three of them had and more! They ended the day off with a full tour of the Alure facility.
Sal and the Alure team have now led 8 builds for Extreme Makeover : Home Edition, with each one being unique in their own way. Different families, different places and totally different houses are a given. One thing that Sal has always preached to his team which stays consistent, is the reason why we do these builds. The show puts us on a national platform to inspire others to do good in their community. That is and has always been Sal's goal with these types of community service. It's great to see this philosophy shine through in young people like (Young) Sal Ferro.
Check out the tour that the Ferros went on through the Alure corporate office: