Fitting the Owens Corning Basement Finishing System to a Customer's Needs

We recently submitted a basement project to HGTV for a campaign they were running. They were asking for a project that changed a homeowner's unused space into something great that could be used for years to come. Below is a description from the basement designer of how Alure was able to create an amazing space in the basement for Todd and Elisa's family.
Making Room for a New Space Gregory Griffin, Basement Designer at Alure Home Improvements: Todd and Elisa are Raving Fans of Alure Home Improvements 4 times over having previously completed projects on the exterior and interior of their home. Roofing, siding, windows and a new bathroom preceded their basement project. The problem was their Farm Ranch style home with 2 bedrooms upstairs and 2 bedrooms on the first floor didn't seem to have enough space for their growing family. Although having a new bathroom the only other rooms were the kitchen, a small living room and a dining room. A busy lifestyle isn't so uncommon these days but when combining Dad's 70 hour work week, Mom's PTA and the two children's active social life, it had become clear some kind of change was desperately needed. The logical choice was to improve their living situation by focusing on the underutilized basement.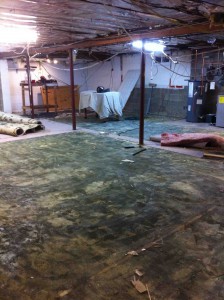 The old basement rooms had a combined total of 1,400 square feet of space including a portion that the previous homeowner had attempted to renovate sometime during the 70's. Under qualified as a remodeler, the not so professional job had become dilapidated. There was a paneled boiler room with metal mesh for ventilation and to our astonishment an auto body shop heater supposedly making the space more comfortable. An additional space had been converted for a home office but further evidence of lesser skill level in remodeling.
Since Alure was already their friend in the business the design meeting was nothing short of an energized team effort to bring forward solutions to meet their needs. In a short amount of time, we discovered their needs were larger than they originally thought. Here were their motivations: Home office Gym Family space Storage Man Cave Women Cave Bathroom Mold free environment The next step in the process was the inspection of the space with a focus on parameters that are ceiling height, concrete integrity, electric and duct work. Once these items were checked out the design process began. The before environment was segregated into rooms with different levels of completion in varied states of repair from projects that began with the previous homeowner. Old sheetrock had become saturated with mold and sagging ceiling tile had continually absorbed ambient moisture common to basements. This created an overwhelming dank odor that results from organic building materials reacting to consistent moisture. The after was a series of cutting edge technologies and design that combined immediate goals as well as the long term needs of the family. The major component that makes this possible is the Owens Corning Basement Finishing System. As a leader in the supply of global building materials, by design, the Owens Corning system is meant to integrate with the basement physics not fight them. These removable wall panels are mold and mildew resistant, stain resistant, Class A fire rated, 95% sound absorbent, dent resistant and guaranteed with a transferable lifetime warranty. The patented lineal track system that holds everything in place is comprised of PVC components that are also treated for mold and mildew resistance. The family could not have been more thrilled with the solution this system provides and felt it was the only choice that would neutralize their concerns about reclaiming their basement for living space.
The Design:
Home Office: Todd wanted a place that he could work quietly when needed, watch TV or track the stock market. He also didn't want to feel closed in. His office was installed with electric outlets every 10 feet by code, an egress window to comply with building codes, a hard line for fax and a small strategically mounted LED TV. We used French doors to present a grand entry into the room and provide an executive like feel. The full glass doors also gives Todd or anyone using the office the ability to see the rest of the family. This helped maintain a feeling of open space and supported a discovery we made about the family. They felt it was important for the individual members to maintain their own space, but also feel connected when they were all be downstairs together. Notable is the sizable storage closet that the office has and is also adjacent to another closet. It has a mini spilt unit that is energy efficient and whisper quiet. This handles its heating, cooling and de-humidification needs independently.
Bathroom: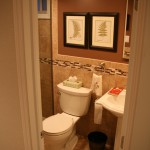 Another needed item; the bathroom addition greatly increased functionality and added aesthetic appeal. We performed an appropriate 3 piece chop and dig (toilet, sink and shower) and housed the ejector pump in the boiler room. Using South Hampton tile gave them beige undertones with a mosaic glass accent. We used a Devonshire Kohler suite for the sink and toilet. The stand-up shower has a convenient corner bench and clear shower doors. We included a Panasonic exhaust fan, high hats for light and a new window.
Gym: The family is active and athletic. We set up a room that can accommodate 3 sizeable pieces of gym equipment. Additionally I suggested a mirror that would provide a real gym like effect. We also discussed home automation and used a vendor that the client had previously worked with. We installed two speakers and a centralized LED TV. The gym also has a mini spilt unit independently handling the heating and cooling needs for that room. Family Space: Boasting approximately 860 square feet, the family room in their new basement area is spot on for any event. Todd and Elisa introduced a sectional couch with a very nice coffee table that has storage inside. A large size LED TV hangs on the wall as a major focal point for movie entertainment and games for the kids. They accented this space with a SoHo loft look with the stairs open underneath. The 60 square foot walk-in closet provided plenty of storage space and left room for a foosball table and other family activities. What is not seen here is an existing door to the backyard which provides another form of egress.
Storage: The entire basement room is set up with closets for each individually used space. In addition to the 60 square foot walk-in closet in the family room, the office has a 24 square foot closet and the gym space shares that same closet configuration. Ironically the gym closet houses the family's additional refrigerator with ventilation as well as serving as a pantry complete with shelving.
Man/Woman Cave: The idea of the cave has become common place on the residential design front. Although the office is primarily used for business type activity – they can switch up and use it to accommodate a guy's night, a meeting or a respective full tilt poker game as needed. The part of the space that became the gym was transformed from a want to a need. Simply put, the gym is a gym but Elisa made a reference to not only being able to host a yoga class, but also how enjoyable it is to take a nap there if she so desires. Todd and Elisa now consider their home a huge success having converted wasted space into a beautiful finished basement. Click here to see the slideshow: