Replacement Windows for Homes in Suffolk County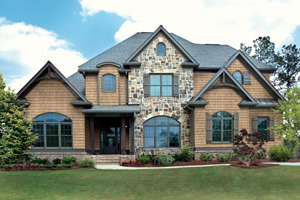 When you're shopping for replacement windows for your home in Suffolk County, pay close attention to the frame and glass technology featured in the windows. Investing in new windows for your home is obviously a big decision, and you need to make absolutely sure that the windows you select will not only look great but also meet your practical needs and expectations. At Alure Home Improvements, we understand how important it is to select the right kind of replacement windows for your home, and offer a tremendous selection of energy efficient windows for you to consider.
While many windows currently on the market might purport to be energy efficient, the dedicated window professionals at Alure Home Improvements can point to specific technological features included in our replacement windows that will help significantly limit residential energy consumption. For instance, the ENERGY STAR® -rated UltraShield windows that we offer come standard with polyurethane insulated extrusions that provide twice the R-value of leading vinyl foam-filled windows. Our windows are also designed to limit air infiltration and our triple weather strip barrier provides as much as 50 percent more weather stripping than other windows on the market.
Two examples of the types of replacement windows that we offer include our:
UltraShield Heat Mirror 8 Glass System, A dual-glazed, dual-cavity window technology that offers exceptional energy efficiency and 99.5 percent UV protection or your home's furnishings.
UltraShield 12 Glass System, This type of window has 12 layers of integrated high performance reflective shields and an air space that his filled with high density argon gas.
We're also of the opinion that your replacement windows are only as good as the method that is used to install them, which is why our installers are constantly working to stay up-to-date on the latest window installation techniques and industry trends to ensure your complete satisfaction.
To learn more about the replacement windows that we offer in Suffolk County, contact us today or stop by our gorgeous showroom in East Meadow, New York. We also offer basement finishing, kitchen remodeling, siding installation, and more.
10% OFF Per Window*
FREE Design Imaging Session**
Expires 2/28/2019. Minimum purchase of five windows; Offers are for the stated time period only and may not be combined with any other offers, promotions or discounts. Offer not applicable in all counties due to Consumer Affairs Restrictions. Offer not applicable in or to residents of New York City. Call for details on scheduling FREE* imaging session.