Marvin Windows Installed in Nassau County, NY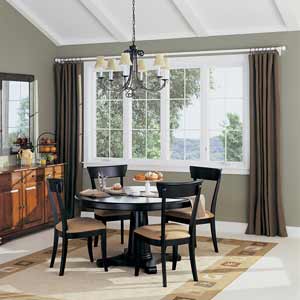 At Alure Home Improvements, we proudly install Marvin Windows in the Nassau County, New York, community. We've chosen to partner with Marvin and offer their Infinity brand of home windows because this product line not only looks great but is also energy efficient and designed to withstand years of wear and tear. In fact, Marvin windows are manufactured from a unique Ultrex fiberglass material, which is so strong that diamond-edge blades are needed just to cut the window frame to size. If you're looking to invest in a superior quality window that will look great on your family home, turn to Alure Home Improvements.
One of the advantages that Ultrex fiberglass window frames afford is that the frames can be smaller than traditional vinyl or wood options. This allows for greater glass surface area, which makes the windows more attractive, lets in more natural light, and makes the windows seem much larger in the same space.
Additionally, these window frames:
Reduce the risk for seal failures and leakage through the window
Withstand regular weathering from high winds, rain, snow, hail, and other acts of Mother Nature
Feature an acrylic finish that helps resist discoloring, scratching, and denting
Require very little maintenance to keep the Marvin windows looking great
The interior has an intricate profile that was designed to replicate the look of traditional wood
Won't expand and contract, ensuring your windows will be easy to open and shut as needed
Furthermore, these replacement windows have a standard low-E glass glazing, which can greatly reduce heat transfer into and out of the home, potentially saving you money on your heating and cooling bills. Where old windows tend to be leaky and inefficient, these products will be an integral component to your home's insulation system.
To learn more about the many benefits to the Marvin Infinity windows that we offer in Nassau County, NY, contact Alure Home Improvements today.
10% OFF*
Per Window
Free* 15 Minute Design Imaging Session
Minimum 5 window purchase. Not to be combined with any other sales or offers. *Limit 1 per household. Pictures must be submitted before session. Subject to availability & must have session scheduled. Call for details.