Bay and Bow Windows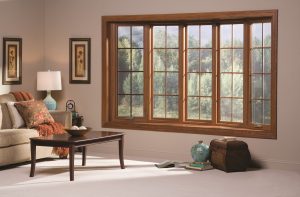 UltraShield bay and bow window designs genuinely bring dimension and more sunlight to a space, both inside the home and from exterior viewpoints. They're a great way to create your own alcove or brighten up your home to wide expanses and rays of light. Our bay and bow window designs also let you feel the outdoor breezes whenever you prefer with operable end units. Optional colors, woodgraining, and glass selections enhance the charm of these window styles.
Features:
High-quality seatboards, headboards, and side jambs are manufactured from furniture grade 1 1⁄8 " thick oak veneer plywood versus competitors' 3⁄4 " thick plywood
Interior surfaces of bay windows are available with optional Pionite® laminates
Anti-water penetration system to help protect against unwanted water and moisture
Bay angle: Either 30° or 45°
Bow angle: 10°

Get 10% Off Each Window*
For a limited time only, take 10% off each window when you buy five or more - Act now!
Minimum purchase of five windows; Offers are for the stated time period only and may not be combined with any other offers, promotions or discounts. Some restrictions apply. Offer not applicable in all counties due to Consumer Affairs Restrictions. Offer not applicable in or to residents of New York City. *Call for details on scheduling the imaging session