Remodeling the Kitchen of Your Home in East Northport, Lindenhurst, Ridge, Smithtown & Other Area Locations in Suffolk County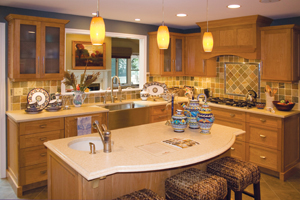 When it comes to remodeling the kitchen in your Suffolk County home, turn to the professionals at Alure Home Improvements to ensure that the job is done right. Our highly trained team will work hard to help you create the perfect kitchen for your home, leaving you with a kitchen that you'll be proud to show off to your friends and family. Whether you have always wanted to renovate your kitchen and the time has finally come or you're thinking about selling and want to increase the resale value of your house, kitchen remodeling is always a great choice.
There is no denying that kitchen remodeling is a big project. You want to make sure that your new living area will complement the look and feel of the rest of your home, exude your own personal style, and also include the features and design touches you require to get the most out of your kitchen for the years to come. To help you through this process, when you turn to Alure you'll have the chance to work with:
Certified Kitchen Designers (CKDs), These individuals are the most highly trained, insightful kitchen remodeling professionals in the industry. To earn their CKD designation, they had to exhibit expertise in the field, meet national standards of aptitude on several standardized tests, demonstrate proven experience in the field, and meet other requirements.
Space planners, Our space planners can help you lay out your new kitchen in a way that will work best for you and your family. For instance, did you know that there is something called a "work triangle" that you should consider in your kitchen layout? This space represents the distance between your food preparation, cleaning, and cooking areas in the kitchen. Our space planners can also help you improve the traffic flow in the kitchen and give it a more open, comfortable feel.
Interior decorators, To help you design a kitchen that will look great and complement the rest of your home, turn to our interior decorating team. Whether you are interested in creating a traditional, timeless kitchen or something more chic and modern, we're here to help. We'll happily walk you through a tremendous variety of colors, materials, and patterns to find the right option for you.
To learn more about the kitchen remodeling services we offer in Suffolk County, contact us today. We proudly serve homeowners in East Northport, Lindenhurst, Ridge, Smithtown, and beyond.
$750 OFF*
Complete Kitchen Remodel
Expires 1/31/2019. Must spend at least $14,999 on a kitchen renovation; Offers are for the stated time period only and may not be combined with any other offers, promotions or discounts. Offer not applicable in all counties due to Consumer Affairs Restrictions. Offer not applicable in or to residents of New York City.