Design the Perfect Kitchen for Your Huntington, NY, Home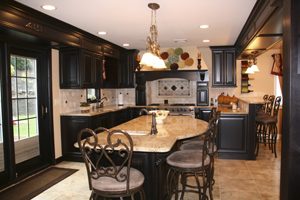 At Alure Home Improvements, our highly trained team can help you design the perfect kitchen for your home in Huntington, New York. We have extensive experience meeting the home remodeling needs of homeowners throughout the area, and as a full-service home remodeler, we are equipped to take your dream kitchen design and turn it into a reality. Even if you aren't quite sure what you want to do about your kitchen and want to talk to professionals who can help you get more out of the living space, our Certified Kitchen Designers are here to help.
There's no denying that the initial kitchen design process is invaluable when you're renovating the room. By taking the time to put together a design plan that fully meets your needs, it helps put you at ease and can make the process extremely exciting. When you turn to Alure Home Improvements, we'll take the time to fully understand your aesthetic preferences, your expectations for your kitchen, and the various features you'd like incorporated into the design to create the kitchen you've always wanted.
Specifically, when it comes to kitchen remodeling, our highly trained team can:
Replace the cabinets and upgrade the storage solutions in the room
Optimize your food preparation area
Upgrade potential seating options
Improve the lighting
Install gorgeous countertops and other surfaces
Install new flooring
Add a new sink
And make the wholesale changes you want to get the most out of your kitchen
Furthermore, if you do not need any walls or fixtures moved, you might be interested in the one-of-a-kind 10-day EXTREME Kitchen Remodeling Service that we offer at Alure. This is an affordable gut and remodel that can be completed in just two weeks by our talented team, allowing you to begin to enjoy your kitchen design in much less time than you might have thought possible.
$750 OFF*
Complete Kitchen Remodel
Not to be combined with any other sales, discounts or promotions. Minimum purchase $14,999.