Gorgeous Kitchen Cabinets Installed in Huntington, NY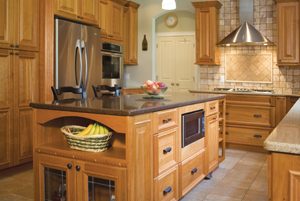 If you need help choosing the right kitchen cabinets for your home in Huntington, New York, the team at Alure Home Improvements is here for you. As a full-service home remodeler with extensive experience remodeling kitchens throughout the area, we know what it takes to choose the perfect kitchen cabinets for any home. When the time comes to make a change, put your trust in our dedicated kitchen remodelers. We'll work closely with you to design a kitchen that fully meets your needs and has the features you've always wanted.
At Alure Home Improvements, it is our goal to offer you options when it comes to your kitchen remodel. Rather than taking a one-size-fits-all approach, we work hard to ensure we have a tremendous variety of choices to help you design the unique kitchen of your dreams. We understand how important kitchen cabinets are in any home, and to help ensure we can accommodate your exact needs and wants, we offer many different:
Styles
Mounts
Color options
Handles and hardware
Finishes
Sizes
Materials
Whether you want traditional wood kitchen cabinets or a more modern open feel to your kitchen, we've got you covered. Our Certified Kitchen Designers are extremely knowledgeable about the latest trends in home remodeling as well as the classic design choices, and we are committed to working with you to ensure your newly finished kitchen exudes your personal sense of style. Additionally, our space planners can help you optimize the layout of your cabinets and drawers, potentially providing you with extra, much-needed storage space.
As a full-service kitchen remodeler, we can handle every aspect of your next improvement project from start to finish. Beyond installing cabinets, our team can also improve the layout of the room, install new floors and countertops, upgrade the lighting, expand the living space, add a breakfast nook or an island and much more. No job is too big or small for our team to handle. To learn more about the remodeling services we offer in Huntington, NY, contact us today.
$750 OFF*
Complete Kitchen Remodel
Not to be combined with any other sales, discounts or promotions. Minimum purchase $14,999.