Vinyl Siding for Homes in Hicksville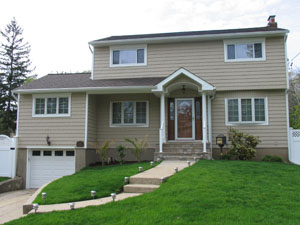 Vinyl siding is a popular option among Hicksville homeowners because it is extremely low maintenance, eco-friendly, and a highly attractive style of siding. At Alure Home Improvements, we specialize in installing a tremendous variety of exterior cladding, including vinyl siding, and will gladly assist you in selecting the option that will work best for your home. Whether you're looking to dramatically upgrade the curb appeal of your property or are interested in improving your home's energy efficiency, vinyl siding is an excellent solution.
One of the biggest advantages to vinyl siding is how easy it is to maintain. Unlike many other building materials, vinyl does not absorb moisture, which helps it withstand even the heaviest rain and snow storms. Plus, vinyl will never fade, chip, peel, or warp, so you can rest assured that your siding will continue to look great for the years to come. In most cases, little more than soap and water are required to keep the siding clean.
Vinyl siding is also quite popular because it can help improve the energy efficiency of the home. When backed by foam insulation, vinyl helps limit heat flow into and out of the house, which can result in potentially significant savings in monthly heating and cooling bills. Plus, vinyl siding is available in numerous colors and styles to complement the exterior of nearly any home.
In addition to vinyl siding, our siding professionals also offer:
Versetta stone siding
Cultured stone siding
Fiberglass siding
Wood siding
And more
To learn more about upgrading your home with the vinyl siding that we offer in the Hicksville area, contact us today. We also offer a number of additional exterior home remodeling products, including replacement windows, gutters, sunrooms, and other options.
$500 OFF *
Complete Siding Package
Free* 15 Minute Design Imaging Session
Not to be combined with any other sales or offers. Minimum purchase $9,999. *Limit 1 per household. Pictures must be submitted before session. Subject to availability & must have session scheduled. Call for details.